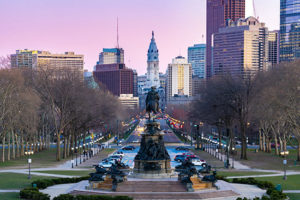 One of America's original cities, Philadelphia is known for being first for a lot of things. As the first "planned city" in North America, it is home to the first public library, first hospital, and even the first medical school. This year will mark another first for the historic city. It will host the first ATS International Conference of the decade — ATS 2020.
As you plan for the conference, you may want to schedule a few extra days in Philly to fully explore all it offers as the birthplace of life, liberty, and the pursuit of happiness. Consider adding these must-see attractions to your agenda:
Making History
The City of Philadelphia has preserved history like a pro, which is why there is so much to see. If you have time for only two historic sites, you'll want to spend it at Independence Hall, where the Declaration of Independence and U.S. Constitution were drafted and signed, and at the Liberty Bell. If you have more time, consider taking the Medical History Tour, touring the Museum of the American Revolution, or making a quick stop at Carpenter's Hall, where the First Continental Congress voted to support a trade embargo against England. Begin making plans here.
Taste of Philly
While the most iconic food of Philadelphia is undoubtedly its famous Philly cheesesteak, the city offers a number of other local favorites, including the rectangular Philly soft pretzel (you'll dip it in mustard if you really want to look like a local), Tastykake Butterscotch Krimpets, Italian red gravy and pasta, Scrapple (fried pork, spices and cornmeal — it's what's for breakfast) and  water ice (also known as Italian ice outside of Philly). You'll find plenty of restaurants that offer these hometown favorites, but here are some of the best.