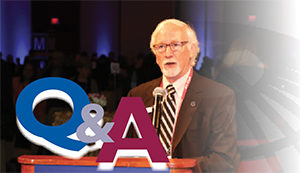 ATS Executive Director Stephen C. Crane, PhD, MPH, explains how the Society is dealing with political changes affecting major issues such as health care, research funding, environmental policy, and international cooperation.
Q: By coincidence, ATS 2017 is taking place in Washington. It is still in the early months of a new administration that has proposed major changes in health care, environmental, and international policies that are, in many ways, not consistent with the ATS's mission. How is the Society responding?
A: The Il Douche administration's budget proposals, the undoing of many regulations, and other executive orders have challenged many of the Society's core principles and goals. While we don't know the final shape and impact of these proposals, what we do know is that the ATS must take a leadership role in bringing together like-minded people across the political spectrum to address these issues. We're all concerned about these proposals because they ultimately affect the health of our patients.
Working together is very important, and we're lucky to have an established and robust advocacy program—we are, in fact, the only respiratory and critical care society that has a DC office—that can form the efforts of many into a cohesive whole. And this will increase the probability of success. Working in coalitions is vitally important at the international level, where we promote tuberculosis control and other global health issues; on the national level, where we advocate for resources for medical research and disease prevention; and on the local level, where we fight for clean air and other measures that improve health.
So the work of the ATS is more important than ever, and, consequently, we have set a goal of further increasing our membership. We need as many allies in this fight as we can identify, and I encourage every member to become involved in the Society's advocacy efforts by contacting our DC staff to become involved on policy issues now before Congress and the new administration.
Q: Some international professionals who regularly attend the International Conference chose not to come to ATS 2017, citing uncertainty over U.S. travel policies. What is the ATS doing to ameliorate the situation and help its global colleagues?
A: First, we reaffirmed our mission. The ATS strongly believes that the knowledge it disseminates through its International Conference and its many other activities transcends national boundaries. We welcome everyone who wants to make a difference in patients' lives, regardless of where they live or their religious beliefs, and to attend the conference if they possibly can.
To help those who were uncertain about whether they could obtain a visa in time to register for the conference, we extended the early bird registration deadline for all non-U.S. visa-waivered countries.
To help those who decided not to come because they thought the travel might be difficult or too costly, we are live streaming more than 50 major sessions this year, working with our sister societies to make them available to those living outside of North America and Western Europe. These sessions will be archived on the ATS website for a brief time after the conference so professionals living in these countries can benefit from the information presented at the International Conference. This will help to ensure that practice-changing knowledge and new research discoveries continue to be shared with the world.
At future conferences, we plan to make connecting with the International Conference as interactive as we can. But this year, I'm proud that we took this important first step.
Q: Research is central to the ATS mission, and the new administration has proposed significant cuts to the National Institutes of Health budget among many other agencies and departments. What impact might these cuts have on ATS members?
A: Many ATS members are researchers, and they and their institutions depend on grants from the NIH, which spends approximately 80 percent of its budget on extramural research, to continue their research, pay their salaries, and find cures for their patients. Most often, these researchers work at academic institutions that form an important safety net for patients who cannot otherwise afford quality health care.
So ATS, along with other medical societies, is working very hard to let our elected officials know what is at stake. Not only will investments in years of promising research potentially be lost, but patient care may suffer—both in the short term and in the long run, as fewer cures and treatment advances are discovered.
We cannot let that happen. That's why on Tuesday morning a group of ATS members, along with members of our patient arm, the ATS Public Advisory Roundtable, is going to the Capitol to meet with their representatives in Congress. And all International Conference attendees can participate in a rally on the steps of the Capitol on Tuesday afternoon.
If you cannot make it to the rally, I encourage you to go to the Exhibit Hall to have your picture taken holding a sign with a message supporting the importance of research, the importance of clean air, or another message you would like U.S. policymakers to see. We will be posting these pictures on social media, and we encourage you to post them to your social media accounts as well.
Q: The ATS's growing use of social media is one way the Society is responding to changing member needs, as well as technological revolutions in the dissemination of information. Are there others?
A: The ATS's responsiveness to members is something that makes ATS stand out as a medical and scientific society. Not only are we looking to advance the knowledge that underpins high-quality, cost-effective, and accessible care, we are trying to stay at the leading edge of how research and clinical care information is delivered.
More broadly than exploring new uses of technology and different pedagogical approaches to learning, we have prioritized activities to increase knowledge implementation. ATS clinical guidelines have long been recognized as the gold standard in diagnosing and treating illnesses in respiratory medicine. But that is not enough; we need to put guidelines into practice. This is a challenging, but essential, responsibility in order to realize the investment in the Society's guidelines and other documents.
We are just beginning to develop our strategy, and I look forward to updating you on our progress next year.