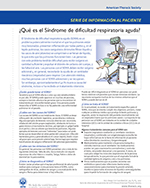 In response to feedback from members, the ATS Center has been transformed so you can easily explore all that the Society has to offer.
With a theme of "ATS: Providing a World of Opportunity to Improve Global Lung Health," the ATS Center features six prominent areas for you to explore. Visit and:
Obtain patient education materials from the popular Patient Information Series—now with more than 60 titles in English and Spanish—that you can download to your email. Or pick up a schedule for the ATS Public Advisory Roundtable Lung Disease Week, which details patient-oriented programs throughout 2016.

Learn about ATS educational programming, including products that can earn you Maintenance of Certification points or continuing medical education credits. Visit the new Test Your Knowledge kiosk to see how you fare with questions on pulmonary, critical care, sleep, or pediatric medicine. Check the schedule for upcoming chapter meetings around the U.S. and upcoming journal clubs offered by our assemblies. You also can pick up Year in Review booklets following the related conference sessions.

Benefit from information that can help you in your work: Peruse the three ATS journals in print or on the iOS and Android apps, or pick up copies of the handy, new guidelines pocket cards, and more.

Learn about the value of ATS membership: When you join ATS or renew your membership while in San Francisco, you will receive a FREE gift pack.

Pick up information on the ATS Foundation Research Program, offering a range of grant opportunities, totaling over $11 million in awarded grants to hundreds of junior investigators.

Learn about our worldwide activities: Stop by the large touchscreen digital world map illustrating the ATS's presence and activities around the globe.
Take your membership to the next level. Visit the ATS Center!