They say everything is bigger in Texas—including your early bird discount for the American Thoracic Society 2019 International Conference, May 17-22, in Dallas.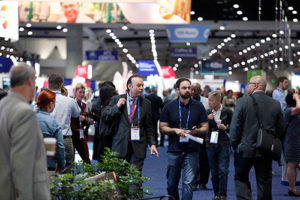 If you register by March 13, you'll be rewarded with the lowest rate for the conference—a savings of $185* off the cost of a full member registration onsite. Registering now has other benefits as well. You can secure your reservations to ticketed events, purchase tickets for the annual ATS Foundation Research Program Benefit, and select your hotel accommodations.
The ATS International Conference offers an array of learning opportunities in different formats. There also are plenty of opportunities to network with colleagues, whether they are your peers or mentors. This unique blend of big science and professional mingling makes the International Conference a must-attend event.
"We have great content and great speakers," said Jess Mandel, MD, ATSF, chair of the ATS 2019 International Conference Committee.  "Plus, there's a culture of intellectual inclusion at the International Conference, where you have people who are not yet finished with their training rubbing elbows with the leaders in the field and doing so with a shared passion about advancing science and health."
5 Reasons to Attend ATS 2019
Whether you're a clinician looking to stay at the forefront of practice, a researcher eager to learn more about an emerging field of science, or a trainee exploring professional opportunities, ATS 2019 will help you achieve your goals in a collegial and interactive environment. Here are five big reasons to attend:
History, size, and scope. This marks the 115thyear of the conference, making it the longest-running, large-scale conference in the world offering groundbreaking research in pulmonary, critical care, and sleep medicine.
Networking and engagement. These opportunities are a vital component of your conference experience and can lay the groundwork for future professional collaborations and opportunities. Last year, more than 16,000 attendees from 102 countries participated in the conference.
Cutting-edge science and research. Through approximately 6,700 abstracts and case reports, and 500 sessions, more than 800 presenters will share with you the latest research and scientific findings. At ATS 2019, you'll hear from world-renowned clinicians and scientists who will reflect on milestones in the pulmonary, critical care, and sleep fields, as well as discuss how advances in science will impact respiratory medicine.
Latest technology and innovation. More than 200 exhibitors will be on-site to offer you a hands-on opportunity to explore new technologies, services, and innovative products. The ATS International Conference is the site of numerous new product launches, keeping you current on the latest tools available.
Key findings of landmark studies announced here first. The ATS International Conference serves as a platform for researchers to release significant findings and scientific discoveries. ATS 2019 will continue this tradition of bringing you the latest clinical and scientific advances, and will serve as a forum for those who shape the future of medicine. Check out the research findings that were revealed for the first time at ATS 2018.
 4 Ways to Register
Visit thoracic.org.
Call Convention Data Services at 866-635-3582 from 9 a.m. to 5 p.m. Eastern time Monday through Friday. Callers outside the U.S. and Canada need to call 508-743-8518.
Mail a registration form to:
ATS 2019
c/o Convention Data Services
107 Waterhouse Road
Bourne, MA 02532
Fax a registration form to 508-743-9673.
Online registration is recommended, but registration forms are available at the conference website. Registration by phone or fax requires a credit card.
*$185 savings reflects the difference between Full Member Advance Registration and Full Member Onsite Registration before any additional purchases and/or fees.