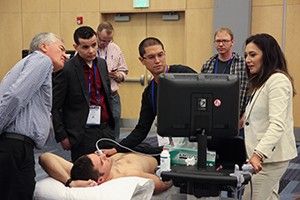 Experts in pulmonary, critical care, and sleep medicine can look to ATS 2016 to learn the latest research and clinical best practices.
The comprehensive and interactive clinically-based programming will give you the required knowledge to stay abreast of changes in the field, allowing you to immediately apply that knowledge to patient care practices. When developing your ATS 2016 itinerary, keep these clinically-focused educational offerings in mind.
Adult and Pediatric Core Curricula
A Systematic Approach to Staying Current for Busy Clinicians
ATS 2016 will provide opportunities to earn up to 30 American Board of Internal Medicine Maintenance of Certification Medical Knowledge Points through the Adult Clinical Core Curriculum modules. The Pediatric Core has been submitted in consideration of American Board of Pediatrics MOC Part 2 Self-Assessment credits. All core curriculum modules are free for attendees for up to two months post-meeting. Find the latest MOC offerings, and check back for instructions and links to take the pre-test.
The Adult Core is organized by pulmonary, critical care, and sleep medicine topics. The Pulmonary Clinical Core Curriculum topics include COPD diagnosis and management, rare lung diseases, therapeutic options for interstitial lung diseases, sarcoidosis, opportunistic pulmonary infections in HIV and non-HIV patients, and hospital-acquired and ventilator-associated pneumonia.
The Critical Care Core Curriculum topics include airway emergencies, transfusions in the ICU, emergent renal replacement and therapy; non-invasive ventilation; managing exacerbations of obstructive lung disease; management of severe hypoxemic respiratory failure; and sedation, delirium and mobilization in the ICU.
Sleep Medicine Core Curriculum topics include sleep staging and scoring; in-lab and ambulatory diagnostics; biology of circadian disorders; shift work, jet lag, and advanced sleep-wake phase disorder in circadian disorders; and REM and non-REM parasomnias.
The Pediatric Core Curriculum topics will feature vasculitic pulmonary disease, sickle cell lung disease, lung defense mechanisms, lung growth and development, congenital abnormalities of the upper and lower airways, and acute and chronic respiratory failure.
Pulmonary Clinical Core Curriculum I is supported by educational grants from AstraZeneca LP and GlaxoSmithKline.
Pulmonary Clinical Core Curriculum II is supported by an educational grant from Genentech and Boehringer Ingelheim Pharmaceuticals, Inc.

Skills-Based Education
Practical Learning for Postgraduates
Three skills-based courses are available to attendees. The two-day "Critical Care Ultrasound and Echocardiography: Part I and Part II" postgraduate courses Friday and Saturday, May 13 and 14, are expected to attract a large crowd of providers of critical care, emergency, and pulmonary medicine. The courses will comprise didactic lectures and skills-based stations focused on bedside transthoracic echocardiography, with some diagnostic ultrasound.
Each day of the echocardiography courses will feature eight sessions and two 90-minute practical skills sessions. Within each session will be stations that cover three topics, and participants will rotate to a new station every half hour.
Two additional skills-based postgraduate courses are Friday's course on pleural diseases and Saturday's bronchoscopy course and workshop.

Postgraduate courses require an additional fee separate from general registration.
Bronchoscopy Course and Workshop (PG15) is supported by educational grants from AstraZeneca LP and Boston Scientific Corporation, Inc. In-kind support is provided by Boston Scientific Corporation, Inc.
Pulmonary Medicine and Critical Care Tracks
Immersion in Comprehensive Education
Attendees can take part in programming dedicated to clinical topics in pulmonary medicine, and daily sessions covering all aspects of critical care. Track highlights include the New England Journal of Medicine and Journal of the American Medical Association sessions that present newly published research. Learn more about: the "Fellows Case Conference," "Mechanisms of Organ Failure in Sepsis," "Hot Topics in COPD: A Pro/Con Debate," "The New ICU Recovery Toolkit: 5 Hammers Looking for the Right Nail," "Tobacco Smoking and Cessation in Vulnerable Populations," "Critical Care Meets Silicon Valley: Tech Solutions for Research and Practice," "What, When, Where: Clearing the Air on Stem Cell Therapies in Pulmonary Diseases," and much more.
Hot Topics in COPD: A Pro/Con Debate (B2) is supported by educational grants from AstraZeneca LP and GlaxoSmithKline.
Adult Clinical, Pediatric, Nursing Years in Review
Recently Published Important and Influential Papers
Experts will discuss each of their respective areas of adult clinical, pediatric, and nursing care during the ATS 2016 Year in Review sessions.
Sunday, May 15
Clinical Year in Review 1
COPD
Pulmonary Rehabilitation
Lung Transplantation
Cystic Fibrosis
Clinical Year in Review 1 (A1) is supported by educational grants from AstraZeneca LP, Gilead Sciences, Inc., GlaxoSmithKline, Pfizer Inc., and Vertex Pharmaceuticals, Inc.
Pediatric Year in Review
Sleep
Bronchiectasis in Children
Pediatric Pulmonary Genetics and Genomics
Sickle Cell Diseases
Monday, May 16
Clinical Year in Review 2
ARDS
Non-Invasive Mechanical Ventilation
General Critical Care
Sepsis
Nursing Year in Review
Control of TB in High Burden Countries: The China Experience
Control of TB in Low Burden Settings: The UK Experience
Novel Approaches to Self-Management in Australian Adults with Severe Asthma
Delivery System Research: Highlights in Pulmonary Nursing Care in the USA and Beyond
Integrated Care Services for Chronic Pulmonary Patients
Nursing Year in Review (B81) is supported by educational grants from Genentech and Meda Pharmaceuticals, Inc.
Tuesday, May 17
Clinical Year in Review 3
Palliative Care
Lung Cancer
Sleep in Critical Illness
Sleep Disordered Breathing
Clinical Year in Review 3 (C1) is supported by an educational grant from AstraZeneca LP.
Wednesday, May 18
Clinical Year in Review 4
Asthma
Medical Education
Pulmonary Vascular Diseases
ILD
Clinical Year in Review 4 (D1) is supported by educational grants from Actelion Pharmaceuticals US, Inc., AstraZeneca LP, Boehringer Ingelheim Pharmaceuticals, Inc., Genentech, GlaxoSmithKline, Meda Pharmaceuticals, Inc., Sanofi US and Regeneron Pharmaceuticals, Teva Pharmaceuticals, and United Therapeutics Corporation.
Clinicians Center
Clinicians can meet, relax, learn, and gather information and resources in the Clinicians Center, which will be open from 7:30 a.m. to 5 p.m. Sunday-Tuesday, May 15-17, in the Moscone Center Lobby (West Building, Level 1). Mid-day educational demonstrations in the Learning Lab will cover "Ultrasound in Pulmonary and Critical Care Emergencies," "Mechanical Ventilation: Case Studies," and "EBUS Transbronchial Needle Aspiration—Improving Your Yield."
New this year, the Clinicians Center will offer two afternoon lectures in the Learning Lab on "Coding and Billing for Pulmonary, Critical Care and Sleep Medicine" and daily live streaming of the Keynote Series.
Also scheduled are a meet-and-greet reception for nurses from 11 a.m. to noon Sunday, May 15, and a reception for the Outstanding Clinician Award recipient, Jay M. Shames, MD, of New Orleans, Louisiana, from 4 to 5 p.m. on Monday, May 16.
Attendees participating in the adult and pediatric core curriculum sessions are invited to take their respective exams in the Clinicians Center, where dedicated computers will be available Sunday through Tuesday.
The center will offer a light complimentary breakfast from 7:30 to 8:30 a.m. each day.
CME Accreditation Statement
The American Thoracic Society is accredited by the Accreditation Council for Continuing Medical Education to provide continuing medical education for physicians.
This live activity has been planned and implemented in accordance with the essential areas and policies of the ACCME and are free from the control of commercial interests. The ATS designates this activity for a maximum of 45 AMA PRA Category 1 Credits™. The ATS is unable to offer AMA PRA Category 1 Credit(s)™ for sessions that include presentations made by industry-employed speakers if the topic of their presentation relates to a product or business line of their employer.
The designation of AMA PRA Category 1 Credit(s)™ per session is listed in the session pages. Physicians should only claim the credit commensurate with the extent of their participation in the activity.
Continuing Nursing Education
The American Thoracic Society will again partner with National Jewish Health® to provide Nursing Contact Hours for selected sessions.National Jewish Health® is approved by the California Board of Registered Nursing, Provider Number CEP 12724.