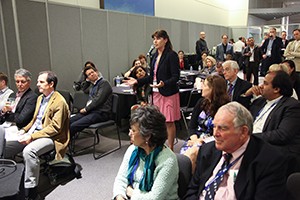 Early career investigators will pitch their innovative proposals when the BEAR (Building Education to Advance Research) Cage returns to the ATS International Conference on Sunday, May 15. The Second Annual BEAR Cage, from 11:30 a.m. to 1:15 p.m. in Moscone Center, Room 105 (South Building, Lower Level), is certain to entertain, enlighten, and educate when three investigators compete for grants before a live audience and pitch their innovative research proposals to a panel of translational science experts representing academia, industry, and governmental sectors.
Last year's winner, Joshua P. Fessel, MD, PhD, Vanderbilt University Medical Center, will provide an update of his winning project "A Novel System to Detect and Prevent Impending Aspiration—AspirGard IT-NGT," which garnered him the $5,000 prize.
Last year's runners-up, who received $2,500 each, were Laura Crotty-Alexander, MD, University of California, San Diego, for "Effects of E-Cigarette Vapor on Viability, Inflammatory Responses and Antimicrobial Function of Airway Cells," and Tiffany M. Powell-Wiley, MD, MPH, FAHA, National Heart, Lung, and Blood Institute, for "Tailoring Mobile Health Technology to Neighborhood Environment: A Multilevel, Community-Based Pilot Physical Activity Intervention."
Early career investigators who are ATS members submitted research proposals to the ATS BEAR Cage competition, sponsored by the ATS Drug Device Discovery and Development Committee. The top three submissions chosen by the ATS DDDD Committee were invited to pitch their research proposals. Again this year, the panel, with audience participation, will award $5,000 to a grand-prize winner and $2,500 each to two runners-up.