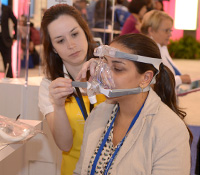 The Exhibit Hall is a vast extension of the ATS 2014 educational experience as it presents the unique opportunity for attendees to learn firsthand from the developers of the latest therapies, medical devices, publications, and research services. The face-to-face interaction with experts from each of the organizations and companies exhibiting their products and services is invaluable, as attendees will not only learn about new tools that can further their research and patient care but also learn the proper way of using these tools for better efficiency at the bench and bedside—all under one roof.
The Exhibit Hall opens its doors with complimentary coffee at 10:30 a.m. today in Halls D-G of the San Diego Convention Center. With more than 200 companies showcasing their products and services, attendees will find no shortage of hands-on demonstrations. Visit these exhibitors and others to learn more, and be sure to return during unopposed time from 1 to 2 p.m. for coffee, dessert, and many more learning opportunities.
Aerocrine representatives in Booth 4323 will measure attendees' fractional exhaled nitric oxide and provide more information about NIOX MINO®. For each test conducted, Aerocrine will make a donation to the ATS Foundation. Aerocrine, a medical technology company focused on improving the management and care of patients with inflammatory airway diseases, such as asthma, is a pioneer in fractional exhaled nitric oxide technology. It markets NIOX MINO® to monitor and manage airway inflammation. NIOX MINO provides quick and accurate FeNO measurement, according to the company, which adds that measuring FeNO with the NIOX MINO helps optimize inhaled corticosteroid dose, detect patient nonadherence, and reduce asthma exacerbations rates up to 50 percent.
In Booth 4929, at 1 p.m. Monday, the International Institute for the Advancement of Medicine will host Beiyun Zhou, PhD, of the University of Southern California, to speak about her research involving mechanisms that regulate lung epithelial cell function and differentiation in the context of lung injury and repair. These studies will provide the basis for the development of novel therapeutic approaches to enhance repair following lung injury.
Methapharm in Booth 3619 works with pulmonary function labs and facilities to encourage and facilitate the use of objective testing in the diagnosis of asthma. Its Provocholine® is the only FDA-approved methacholine chloride for methacholine challenge tests, the company notes. Methapharm offers an online program to educate technologists on methacholine challenge tests. Its self-study module, "Taking the Provocholine Challenge," is available at no cost to respiratory therapists and other practitioners involved with pulmonary function testing. Learn more about this and other educational and support resources.
Micro Direct in Booth 3642 will display its complete line of respiratory products, which include screening and diagnostic spirometers for the diagnosis and treatment of lung disease, carbon monoxide monitors for CO poisoning detection or smoking cessation programs, respiratory pressure monitors for pulmonary rehab programs and peak flow meters for personal and office use. Stop by for a demonstration of its products.
PneumRx Inc. in Booth 3331 focuses on developing minimally invasive solutions for unmet medical needs in pulmonary medicine. Its flagship RePneu® Lung Volume Reduction Coil addresses key challenges in emphysema management. The coil is designed to reduce lung volume and restore elastic recoil to improve lung function, exercise capacity, and quality of life for patients with emphysema, the company notes. Made from shape-memory Nitinol, the coil compresses hyperinflated tissue and tethers small airways to prevent airway collapse without blocking lung parenchyma. A hands-on demo, a review of the company's recent publications, and status update of its FDA-approved trial for LVRC treatment of severe emphysema, the RENEW Study, will be available. The LVRC is limited to investigational use in the United States.
Exhibit Hall Hours
Sunday: 10:30 a.m. to 4 p.m.
Monday: 10:30 a.m. to 3 p.m.
Tuesday: 10:30 a.m. to 3 p.m.