Take advantage of technology to maximize your ATS 2018 experience. Use it to plan your itinerary, connect with colleagues, and interact with presenters and speakers during sessions.
Interactive Technology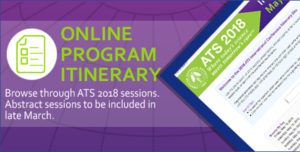 Be an active learner at the International Conference by using the Audience Response System technology that helps presenters and attendees interact. The ARS also translates feedback into charts and graphs that can display results in real time. You can participate in these live polls by downloading the app, finding the session you are in, and clicking on the ARS button. Alternatively, you can also access it via the web by entering the appropriate URL into your browser.
Beacon Technology
First used at ATS 2017 in Washington, beacon technology will be used again to help facilitate attendee traffic flows throughout the conference. No more waiting to enter a session while your badge gets scanned manually.
ATS 2018 App
Let the ATS 2018 app guide you while onsite at the International Conference. It's a free download on Google Play (for Android users) or iTunes (for iPhone users). After May 1, search for ATS International Conference to download the current app.
The easy-to-use app allows you to:
Bookmark sessions and create a personalized agenda.
Search scientific sessions by day, speaker, type, specialty track, or disease state.
Search scientific abstracts, case reports, and late-breaking abstracts by topic, title, author, and format.
Search the variety of industry programs available, such as Guru Bars, Industry Theaters, Non-CME Symposia, and Practical Workshops.
Search and bookmark exhibitors you would like to visit and find your way using our interactive floorplans of the San Diego Convention Center.
Identify events and activities at the seven ATS networking centers.
Learn about the wealth of opportunities available for early career professionals.
Easily exchange contact information by using our Contact Scanning tool to scan a colleague's registration badge. Once scanned, their contact information will appear on your screen and can be stored on your device.
Chat with other attendees and fellow colleagues through our Network feature. Share your contact information, send a message, and take notes.
Browse accreditation opportunities, including CME sessions, Nursing Contact Hours, and Maintenance of Certification.
Itinerary Builder
Make the most of your time at ATS 2018 by putting together a plan before you go. Build your conference schedule online using the ATS International Conference Itinerary Site. The site lets you search through hundreds of sessions and events to customize an itinerary that will maximize your experience. Before you arrive at the conference, sync you itinerary with the ATS mobile app.
Use the site to search all 2018 sessions, presentations, and speakers. There are many different ways you can use the site to search. Enter a keyword in the search box and then filter the results by day or session type.
Browse by day
Browse by session type:
Adult Clinical Core Curriculum
ATS Keynote Series
ATS President's Symposium
Basic Science Core
Clinical Topics in Pulmonary Medicine
Critical Care Track
Faculty Development Seminar
General Session
Medical Education Seminar
Meet the Professor Seminar
Outside Organization Session
Pediatric Clinical Core Curriculum
Postgraduate Course
Public Advisory Roundtable Symposium
Scientific Symposium
Special Event
Sunrise Seminar
Thematic Seminar Series
Workshop
Year in Review
Browse by audience type:
Clinicians
Early Career Professionals
Inter-professionals
Nurses
Browse by specialty track topics:
Asthma, COPD, Other Airway Diseases
Cancer
Critical Illness
Environmental and Occupational Lung Diseases
Infection
Interstitial Lung Disease
Pediatrics/Developmental Disorders
Pleural Disease
Pulmonary Vascular Disease
Rare Lung Disease
Sleep Problems
Surgery and Transplantation
Browse accreditation opportunities