The ATS 2019 truly is an international conference. About 40 percent of the attendees will travel to Dallas from nearly 100 countries. Many of those attendees will be chairing events, and many more will be presenting their research. In fact, more than 1,900 abstracts will be presented by international researchers.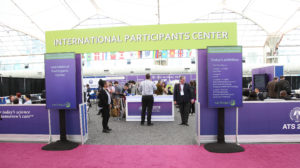 "The International Conference is the No. 1 place for international health professionals to advance their careers," said Gustavo Matute-Bello, MD, chair of the ATS International Committee. "If you're a trainee, you can benefit enormously by learning the directions in which your field is going and getting to know world leaders. If you are a senior person, there is no better place to showcase your research."
Serge Grazioli, MD, a neonatologist and pediatric intensivist at the University of Geneva, echoed those thoughts. "The ATS conference represents a unique opportunity for clinician scientists like me to network with other research groups worldwide and gain a good understanding of the latest scientific results in my field."
More than 5,000 kilometers away in Gambia, Babatunde Awokola, MD, a physician scientist, said, "At the ATS conference, you hear about cutting-edge research that is at the very edge!"
Daniel Obaseki, MD, MPH, an attending physician at Obafemi Awolowo University in Nigeria and co-founder of the ATS African Interest Group, added that the Exhibit Hall offers "a huge display of the latest technology in medicine and pharmaceuticals for respiratory medicine."
Special International Opportunities
In addition to the many sessions led by international experts, several sessions in particular will have an international focus, including the postgraduate course Proceedings From the World Symposium on Pulmonary Hypertension: What Do We Need to Know Moving Forward?(PG8) and Global Perspectives on Climate Change: Impact on Susceptible Populations and Low-Income Countries(B7).
Special interest groups, including the African and Asian interest groups, will meet during the conference. A global health interest group is also being formed and will meet for the first time in Dallas.
MECOR, the ATS's international Methods in Epidemiologic, Clinical and Operations Research program, will celebrate its 25thanniversary at ATS 2019. MECOR graduates will be presenting their research throughout the conference. On Saturday, May 18, more than 65 international attendees will travel to ATS 2019 on a MECOR Graduate Scholarship or an International Trainee Scholarship to present their research during the International Scholars Poster Colloquium and regularly scheduled poster discussion and poster symposium sessions.
The ATS 2019 International Participants Center provides an ideal place to network and relax, with complimentary refreshments, and learn more about ATS's global mission. As Obianuju Ozoh, MBBS, a pulmonologist at the University of Lagos, who is a former MECOR research grant recipient, said, "You can always find help at the center, and having that base makes the conference less stressful."
Comparing Notes
Jess Mandel, MD, ATSF, chair of the ATS International Conference Committee, said ATS 2019 gives U.S. health professionals the benefit of different perspectives from around the world without leaving their country. "There's a growing appreciation that approaches to clinical problems need to involve perspectives from resource-rich countries and resource-limited countries," he said. "This gives us a much more robust sense of the challenges and the potential solutions for clinical problems."