If a rising tide lifts all ships, the discussion at Monday's Women's Forum indicates the ATS fleet is striving to get stronger in years to come.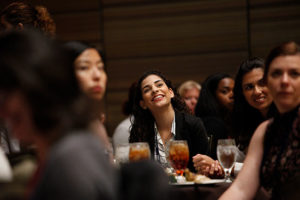 The luncheon presentation focused on developing meaningful mentor-mentee relationships in the medical community, a topic specifically requested after last year's forum. Keynote speakers Lorraine Ware, MD, and Julie Bastarache, MD, MPH, are a former mentor-mentee duo from Vanderbilt who are now colleagues and friends, even sharing Thanksgiving family dinner get-togethers. They shared their secrets to success with a packed ballroom in the Hyatt Regency.
Dr. Ware, the mentor half of the duo, reminded the audience that medical professionals who receive strong mentoring are more productive, are more satisfied with their careers, publish more articles, and have more confidence. She also shared five tips for being a great mentee.
"I don't think people are born great mentees," she said. "There are steps that everyone in this room can take."
Establish your goals. "The goal is not to be your mentor. You're trying to get to where youwant to go." She also noted that a mentor may fill different roles—a counselor, an adviser, a promoter. For women especially, a mentor can be your defender if you feel threatened, whether in a personal or professional situation. A mentor in a higher position can exert more power and experience less risk by speaking out.
Drive the agenda. A mentee needs to take charge. Have an agenda for each time you meet with your mentor. Send follow-up notes as well.
Do the heavy lifting. Put in the necessary work, and do it with enthusiasm.
Listen and communicate. "The only thing I've found irritating or annoying or challenging," she said, "has been when mentees have gone rogue," Dr. Ware said. If your mentor does not have input, he or she cannot help you.
It's going to be rough at times, but keep going.
Dr. Bastarache presented the mentee perspective—the things a mentor must have from the perspective of someone in a mentee position.
Mentorship takes an incredible amount of time. It's important that someone who becomes a mentor has sufficient time to dedicate.
Mentoring may mean "giving someone a kernel of an idea and letting them run with it," said Dr. Bastarache. "It can be really hard, but it's important."
Dr. Bastarache said she talks to Dr. Ware almost every day. Mentors need to have an open-door policy.
Mentors have to be willing to bend based on what a mentee proposes. "One of the most fun things about being a mentor is when your mentee comes to you with good ideas," she said.
"Being a mentor is not just about giving people money or advice," said Dr. Bastarache. "It's about having a great working relationship. The mentor and mentee should complement each other, not be carbon copies of each other."
The pair encourages everyone in the ATS to reach out—either as a mentor or mentee—to start building these valuable and lasting relationships.