The second annual Respiratory Innovation Summit welcomed nearly 70 speakers and more than two dozen startup companies who previewed dozens of new therapies, drugs, devices, and diagnostics designed to treat respiratory disease.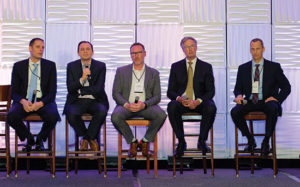 Each of these innovators, investors, and clinicians is leading the fight to create powerful treatments for deadly and crippling diseases of the lungs and airways, and this event provides an opportunity to connect them during single-hour "spotlight" presentations.
Two dozen startups were given the opportunity to present to an audience that included entrepreneurs, investment banks, venture firms, large medical technology companies, and more—an intentional choice made with the hope of driving awareness and, ultimately, funding.
Product Presenters
This year's startup companies that presented at the Research Innovation Summit:
4Dx Limited
Altavant
Amiko
ArtiQ
AVISA
Bellerophon Therapeutics
Body Vision Medical
Cohero Health, Inc.
Eldec Pharmaceuticals
FLUIDDA
Gala Therapeutics
HCmed Innovations
Indalo Therapeutics
Inscope Medical Solutions
Lungpacer Medical, Inc.
Nuvaira
Optellum
Pharmosa Biopharm Inc.
Pliant Therapeutics
Pulmocide
Savara Inc.
Sommetrics, Inc.
Spire Health
VIDA
As she did last year, RIS Co-Chair Cecilia Gonzalo, partner at Oberland Capital, led off RIS with a call out to investors to commit more capital to this underfunded space. "We hope that this year's Respiratory Innovation Summit accomplished its mission of bringing together multiple stakeholders to advance innovation in the respiratory space to serve patients in need of new therapies," Ms. Gonzalo said.
This year's spotlights focused heavily on four main areas: airway disease, idiopathic pulmonary fibrosis and interstitial lung disease, interventional pulmonology, and artificial intelligence. Within each spotlight, clinicians gave a short overview of those areas and participated in panel discussions with start-up and industry executives.
Other discussions held during the day included:
How Innovation Impacts Patient Perspectives
How to Find—and Fund—Innovative Respiratory Ideas
Emerging Medtech M&A and Fundraising Trends
The Future of Financing Respiratory Start-Ups
The program has strong support from ATS leadership including its Drug, Device, Discovery, and Development (Quad D) Committee. Tim Watkins, who is chair of the DDDD committee and co-chair of RIS, said the program brought necessary attention to respiratory innovation.
"The strong showing at this year's RIS reflects the rising interest in new respiratory therapies," said Watkins, who also is director of clinical research in respiratory/inflammation therapeutics at Gilead Sciences. "We look forward to building on the momentum this year and increasing the size of the RIS community in 2020."