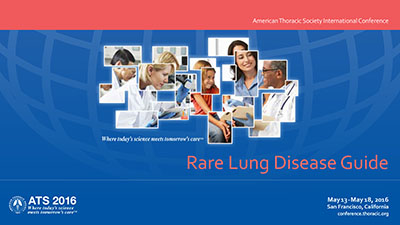 To help ATS 2016 International Conference attendees find abstracts and session content about uncommon diseases and conditions, the Society has released the Rare Lung Disease Guide.
This guide was compiled by a small group of ATS Members chaired by Frank McCormack, MD, and abstract authors requested to be considered for inclusion during the submission process.
Terms include Hermansky-Pudlak Syndrome, Lymphangioleiomyomatosis, as well as Lymphangiomatosis and Gorham's Disease. Download the guide. Printed copies will be available in the Clinicians Center, in the Exhibit Hall, and in the literature bin located just inside the main entrance to the Exhibit Hall.