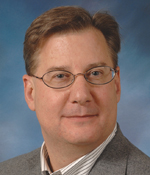 An interview with Thomas Ferkol, MD, ATS President-Elect
Q: During the 2011 election, you noted the importance of supporting the next generation of pulmonary scientists. How might the Society address this issue?
A: I have seen how our understanding of genomics and cellular physiology has led to treatments for cystic fibrosis that are changing the lives of children. We are truly entering an era of miracles and wonder, but at the same time, we are facing a serious threat: the disappearing pulmonary scientist.
The need for pulmonary scientists and clinical investigators has never been greater, especially with discoveries increasingly applied to diagnostics and clinical care. We must nurture medical educators who are devoted to imparting this knowledge to our colleagues and patients worldwide, and define new standards of care for lung diseases. We have to help our members achieve these goals, especially our 4,000 early career members. To provide these young scholars with a competitive edge, we are creating the ATS Academy, which will provide the recognition, training, and support to allow them to thrive. I'll discuss the ATS Academy further in an upcoming ATS News President's Message.
Q: Another theme of your campaign was the need to increase the visibility of the Society. What lies ahead in achieving these goals?
A: Through our committees and Washington Office, the ATS has been quite visible at the National Institutes of Health, the Environmental Protection Agency, and in the corridors of Capitol Hill. It was evident by our participation in a recent EPA-Department of Health and Human Services panel, in which we discussed the risks of air pollution on public health, as well as a brief the Society filed to influence the Supreme Court decision to uphold the EPA rule to reduce interstate air pollution.
Despite these efforts, the Society is nearly invisible to the public. The new Center for Patient and Clinician Education, which will provide educational materials covering common lung diseases, procedures, diagnostics, and treatments, is under development and, we hope, will become a valued resource for patients, families, and practicing clinicians. Indeed, better coordination of our communication strategies including the journals, the International Conference, and website, should raise our profile.
Q: You have written that the shrinking pool of young pediatrician clinician-scientists is at a crisis point. As ATS president, how will you direct resources to counter this trend?
A: The "vanishing" pulmonary scientist is a problem that appears to be getting worse, not better. Few medical students who enter pediatric residencies each year consider additional subspecialty training, fewer select pediatric pulmonology as a career path, and only a handful choose a research career. There are increased concerns about funding opportunities, and falling numbers of established investigators have weakened pediatric pulmonology, thus reducing the number of effective role models and research mentors. I fear this phenomenon is not limited to pediatrics.
Research exposure has eroded in our training programs, in part due to multiple requirements that have been added to the structure of fellowship training by the Accreditation Council for Graduate Medical Education. Involvement in quality improvement projects, increased coursework, and mandatory clinics may help achieve certain goals for clinical training, but these activities reduce time available for developing research interests and skills. We are beginning to see a similar phenomenon as faculty, with new maintenance of certification requirements and widespread adoption of relative value units by academic medical centers. I expect that the ATS Academy will address some of these issues, but pediatric leaders must also organize and plan for greater involvement in lobbying and defining the needs of our field. Additional pressure should be applied through the Society to address the issue of training and certification requirements with the specialty boards.
Q: When you had served as chair of the Assembly on Pediatrics, you focused on giving international members a voice. How might you replicate this effort Society-wide? 
A: I did not fully appreciate the global reach of the ATS until I joined the Executive Committee. We are truly an international organization, with members from 122 countries. Nearly a third of our members are from outside North America, and almost half of the ATS 2014 attendees are international. Clearly, science does not recognize national boundaries.
Many of our international members are actively involved in the ATS, principally through our committees and assemblies. They, too, will be a prominent in the ATS Academy. But we need to do more. We should, for instance, provide international programming at our conference similar to what we held at ATS 2013, which was the first Spanish language-based session for our colleagues from the Asociación Latinoamericana de Tórax.
I would be remiss if I did not comment on our strong relationships with many national and international respiratory societies. These friendships, and our work in the Forum of International Respiratory Societies (FIRS), have prepared us for the upcoming United Nations Summit on Noncommunicable Diseases in New York City. FIRS plans to hold parallel sessions during the Summit and publish a series of articles describing the global toll of lung disease.