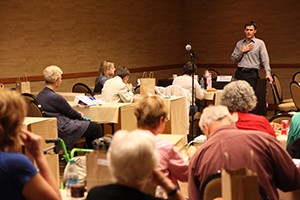 Last year's ATS Public Advisory Roundtable (PAR) Meet-the-Experts Forum gave patients and family members the opportunity to spend a half day with experts in pulmonary, critical care, and sleep medicine. The forum has become so popular that attendance increased from 190 in 2014 to 248 in 2015.
This interest exemplifies the commitment the Society has made to patients and their families through the ATS PAR.
Founded in 2001, ATS PAR is a partnership with organizations representing persons affected by respiratory diseases, sleep-related conditions, or related critical illnesses. The ATS collaborates with these groups to advance shared educational, research, patient care, and advocacy goals.
The PAR Meet-the Experts Forum will be from 10 a.m. to 2 p.m., Saturday, May 14, at the Marriott Marquis, Room/Location TBD.
Open to the general public, this free forum will give patients and families the opportunity to hear from experts on how to use technology more effectively. The panel will include speakers from the University of California, San Francisco; University of Illinois, Chicago; and West Virginia University, Morgantown. In particular, they will share their thoughts on improving patient adherence using CPAP, managing lung diseases in rural areas, and using social media as a tool in smoking cessation.
Following the panel discussion will be break-out sessions. Attendees will be able to mingle with expert pulmonologists representing COPD, scleroderma, pulmonary hypertension, pulmonary fibrosis, sarcoidosis, asthma, and rare lung diseases, such as primary ciliary dyskinesia, nontuberculous mycobacteria, lymphangiomatosis and Gorham's disease, LAM/tuberous sclerosis, children's interstitial lung disease, and Alpha-1 antitrypsin deficiency. Patients will be able to informally discuss the latest in research, clinical trials, and clinical care with the experts.
One of last year's Meet-the-Expert moderators, Teresa Barnes, who lost five family members to pulmonary fibrosis, shared that beyond giving patients the power to improve their lives, the ATS PAR event gives family members and caregivers a renewed understanding of what their family members experience.
"A lot of times, there is a disconnect between a patient and family member or a caregiver, says Ms. Barnes, a past chair of ATS PAR. "To talk to experts and understand the reasons people feel the way they do, they have a renewed understanding of what their family member is going through and a better relationship as a result."
Physicians also gained insights from patients, including first-time presenter Rebecca Keith, MD, assistant professor of medicine at the University of Colorado School of Medicine, Aurora.
"The ATS PAR forum is exciting because it allows me as a physician to understand what my patients are learning and their interests," Dr. Keith says. "I spent some time having lunch with patients who have pulmonary fibrosis and learning from them what it's like to deal with this disease and how they get through every day. It is really impressive how resilient they are and how they manage to make the best out of each situation."
Visit the ATS PAR Area
Attendees will be able to connect with patients, patient interest groups, and advocates at the ATS PAR area in the Exhibit Hall. Organizations with representatives on the ATS PAR include:
Alpha-1 Foundation
Asthma & Allergy Foundation of America*
Children's Interstitial Lung Disease Foundation
Cystic Fibrosis Foundation*
Emphysema Foundation for Our Rights to Survive (EFFORTS)*
Foundation for Sarcoidosis Research
The LAM Foundation
Lung Transplant Foundation
Lymphangiomatosis & Gorham's Disease Alliance
NTM Info & Research, Inc.
PCD Foundation (Primary Ciliary Dyskinesia)
Pulmonary Hypertension Association
Scleroderma Foundation
Tuberous Sclerosis Alliance*
* Not exhibiting at ATS 2016.