Taking charge of your own lung health was the theme of Saturday's ATS Public Advisory Roundtable (PAR) Meet the Experts panel. The PAR panel opened with a two-hour panel featuring five experts who explored pulmonary rehabilitation, oxygen therapy, clinical trials, and shared decision-making as they relate to lung health.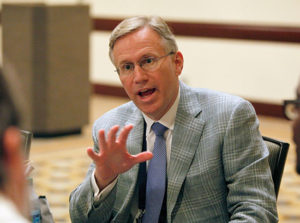 For patients with lung diseases, PAR Meet the Experts serves as an opportunity to learn more about their diseases—and themselves.
"I'm 22, and I don't know much about my own disease," said Jewella Sky of Joshua, Texas, who has primary ciliary dyskinesia. "I found out about it PAR through a small Facebook group I have with people with PCD worldwide. Someone posted on Facebook that this was going on in Dallas, and there's not a lot out there on PCD. I have some questions for my doctors now. Like, alright, I've learned all this stuff, so what can we do about this?"
Barb McManemin, from Dallas, came to hear from experts who specialize in her own disease, lymphangioleiomyomatosis (LAM).
"There were a number of different topics that they discussed," she said. "Something as simple as oxygen was really educational." Ms. McManemin said she learned different ways of delivering oxygen, as well as therapy for increasing pulmonary function on your own, whether at the office or at home. She is particularly interested in treatments that might benefit her in the future as she ages.
"Because my disease is a progressive disease, I won't get well," she said. "I've had it for two years, and I've been kind of in denial, so now it's time for me to get educated."
Presenters at PAR Meet the Expert included:
Anne-Marie Russell, PhD, MScN, on "Shared Decision-Making: Partnership to Empower Patients"
Daniel Croft, MD, MPH, on "Myths and Misconceptions: Managing Your Work and Home Space for Lung Health"
Narelle Cox, PhD, on "Pulmonary Rehabilitation: What? Why? Who? Where?"
Kathleen Lindell, PhD, RN, on "The Importance of Oxygen Therapy in Lung Disease"
Kelly Chin, MD, on "Your Role in Clinical Trials"
 Following the presentations, attendees broke out into five different ballrooms for discussion sessions covering:
Allergy/Asthma
chILD
Hermansky Pudlak Syndrome
LAM/Tuberous Sclerosis Complex
Scleroderma
Lung Transplant
Primary Ciliary Dyskinesia
Pulmonary Fibrosis
Sarcoidosis