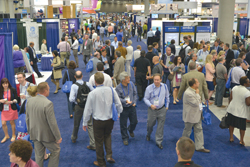 The Clinical Trials Awareness Area outside of the Exhibit Hall in Lobby D is connecting attendees with organizations looking to recruit investigators for pulmonary, critical care, and sleep medicine clinical trials in progress.
As clinical diagnostic solutions provider involved in respiratory diseases, Cepheid in Booth 5 is committed to providing innovative solutions to help respiratory physicians in their clinical decisions. Representatives from Cepheid are looking to gain new clinical trial contacts for upcoming products in a number of scientific areas, including influenza, respiratory panels, respiratory syncytial virus, and tuberculosis.
In turn, the company hopes to gain insights from ATS 2014 attendees about how Cepheid products ideally should be positioned to gain recognition among respiratory physicians. The company seeks to provide key tools related to the meaningful use of diagnostic tests, and is hopeful that those visiting the booth inquire about how Cepheid can play a vital role in the era of accountable care.
Forest Research Institute, Inc., a wholly owned subsidiary of Forest Laboratories, Inc., drives the research, development, and clinical evaluation of its pharmaceutical products and provides ongoing scientific support for its commercialized products. Visit with Forest representatives in Booth 9 to learn how increased productivity in research and development at Forest in recent years has driven the expansion of key areas, including project management and development, pharmacology, toxicology, clinical pharmacology and biometrics, clinical development and medical affairs, and pharmaceutical research and development.
Genentech, Inc., will highlight information about the lebrikizumab molecule and the ongoing clinical trials with lebrikizumab in Booth 10.
Lebrikizumab is a novel humanized monoclonal antibody designed to specifically block the action of the interleukin-13 cytokine (a signaling protein that serves as a messenger between cells that is increased in some patients with asthma) and so reduce airway inflammation, a key feature of asthma. Learn more at www.gene.com.
Founded more than 37 years ago, Genentech is a leading biotechnology company that discovers, develops, manufactures, and commercializes medicines to treat patients with serious or life-threatening medical conditions. The company, a member of the Roche Group, has headquarters in South San Francisco, CA.
Meet with representatives from Verastem in Booth 7 to learn about the COMMAND Study to determine if defactinib can be a safe and effective approach for treating malignant pleural mesothelioma.
COMMAND is for patients who have recently completed chemotherapy consisting of at least four cycles of Alimta® (pemetrexed) + cisplatin or carboplatin (platinum) and who have stable disease or better.
It is the company's goal to raise awareness of the COMMAND Study in case physicians may want to refer their patients to trial immediately following their initial chemotherapy. There is a six-week window in which patients may enroll in COMMAND following initial treatment with pemetrexed and platinum. It is important to inquire with a COMMAND Study center during pemetrexed and platinum treatment so that eligible patients can enroll in COMMAND immediately following initial treatment.
Physicians are encouraged to stop by the Verastem booth to learn more about the COMMAND Study and Verastem's efforts to enroll patients. More information and the COMMAND Study site locations are available at www.COMMANDmeso.com.