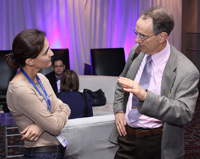 ATS 2014 International Conference attendees who have contributed $300 or more to the ATS Foundation between June 2013 and May 2014 are invited to relax, grab a bite to eat, check emails, and use the Internet free of charge in the ATS Foundation's Donor Appreciation Suite, Sail Pavilion, upper level in the San Diego Convention Center.
Suite amenities include ATS registration with no waiting in line, complimentary breakfast and snacks, Internet access, Microsoft Word, PowerPoint and Excel software, a meeting space, and printer access. Gifts are welcome on-site via check or credit card.
The suite is open from 7 a.m. to 6 p.m. today through Tuesday and from 7 a.m. to 12 p.m. Wednesday.