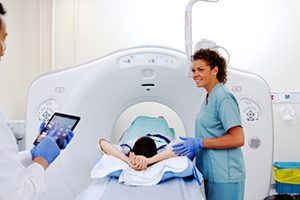 Innovations in pulmonary imaging and surgical techniques, as well as a new mobile application for improving the management of anticoagulant medications will be on display in the Exhibit Hall at ATS 2017.
Pulmonary MRI Technology
The expansion of MRI technology into new patient populations is the result of a partnership between researchers at the Cincinnati Children's Hospital Division of Pulmonary Medicine and the hospital's MRI physicists. In Booth 1812, you will be able to learn how pulmonary MRI is a developing technology that could change the diagnosis, treatment, and understanding of pediatric pulmonary disease.
Pulmonary MRI is more sensitive than traditional pulmonary function tests and has proven useful in evaluating lung function and therapeutic effects on pediatric patients and infants with cystic fibrosis. The technology also can be used with NICU patients at risk for bronchopulmonary dysplasia, preemies with respiratory distress syndrome, and other at-risk infants.
Researchers also have successfully used pulmonary MRI for monitoring allograft rejection in lung transplant patients and evaluating fetal lungs via maternal MRI. The technology may also prove to be helpful in lymphoma and leukemia patients who have undergone pre-bone marrow transplant chest irradiation or treatment with certain chemotherapeutics, putting them at risk for developing lung abnormalities.
Jason Woods, PhD, director of the Center for Pulmonary Imaging Research at Cincinnati Children's Hospital, will be available in the booth to answer questions.
Accessing Pulmonary Nodules for Treatment
An innovative approach to accessing pulmonary nodules not accessible through the airway tree is a feature of Broncus Medical's Archimedes™ System, which attendees will be able to learn more about in Booth 942.
Gerard J. Criner, MD, chair and professor of thoracic medicine and surgery at Lewis Katz School of Medicine at Temple University in Philadelphia, will present clinical data from the Archimedes System. Its software uses virtual navigation to incorporate a bronchoscopic transparenchymal approach (BTPNA) that is not dependent on the need to have an airway leading directly to the lesion.
The BTPNA software creates a tunneled path through the lung parenchyma and around the blood vessels to the peripheral lesion, which can then be sampled and treated during a single visit.
Mobile App Helps Monitor Patients
ClotMD is a mobile solution and cloud-based application that helps health care providers overcome the challenges of managing patients on anticoagulant medication, specifically warfarin. BMMK Technologies at Booth 1246 will feature ClotMD.
Accessible from any computer or mobile device, ClotMD creates a real-time connection between provider and patient, giving providers the ability to remotely manage home INR monitoring and on-site testing. ClotMD also improves real-time patient management and includes a diet library to promote a proactive approach to management.