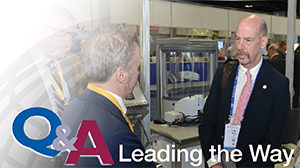 ATS President-Elect Marc Moss, MD, has established goals for ATS to assert its leadership at home and abroad.
Q: Before you were an officer, you served in many other ATS leadership positions, including chair of the International Conference Committee. Has being an officer changed your perspective of the Society?
A: As a result of my involvement in a variety of different capacities, I had a reasonable understanding of the complexities of the ATS, but as an officer, I have been exposed to certain parts of the Society in more depth and have developed a greater appreciation for the impact that many ATS activities have, both here in the U.S. and around the world. As a member of the Executive Committee, I have also met many more ATS members. I knew ATS was fortunate to have dedicated members, but now I realize more fully just what an amazing group we have. Uniformly, they are busy people who are willing to dedicate their free time to advancing the Society's mission of improving respiratory health worldwide. That's pretty amazing!
Q: As you assume the position of president, what are your priorities for moving the Society forward?
A: Over the past two-and-a-half years, the Executive Committee has made a concerted effort to pursue a long-term strategic plan. So that the Society can make steady progress in achieving its goals, the six of us are working more as a team and making decisions as a group. We collectively agreed upon four initiatives:
Develop additional conferences in order to enhance the ATS's educational efforts to other parts of the world.
Expand the implementation and dissemination of the ATS guidelines.
Enhance the use of technology at the International Conference.
Develop a pulmonary function test accreditation program. The ATS will, of course, continue to work in a variety of other areas.
Q: Have you considered ways of translating the qualities that you believe are important in personal leadership—"personal humility" and "fearless professional will," for instance—to the Society's leadership role in pulmonary, critical care, and sleep medicine?
A: Like any skill, leadership can be taught and learned. The ATS is well positioned to play a major role in training the future leaders in pulmonary, critical care, and sleep medicine. This year, the ATS will launch the Emerging Leadership Program. Under the direction of Dr. James Stoller from the Cleveland Clinic, the ATS will teach critical leadership competencies for health care leaders and mentorship/coaching skills to up-and-coming ATS leaders. We are very excited about this program and are confident it will create a pipeline of engaged future leaders for the ATS and for the participants' home institutions.
Q: You've championed the need for the ATS to focus on the needs of the millennial generation. What changes do you think are warranted to meet this challenge?
A: To attract future pulmonary, critical care, and sleep professionals, the ATS must meet the needs of the millennial generation. Born between 1982 and 2000, millennials have been influenced by several historic events, including the tragedy of 9/11 and the rapid growth of social media. Millennials prefer to connect via technology. They relish group involvement and want their efforts to have tangible results. Therefore, to be helpful to millennials, the ATS will need to continue to upgrade our ability to communicate with members through social media, enhance our capacity to connect members and build productive peer groups, facilitate the ability of members to have a meaningful role in ATS activities, and focus on initiatives that yield more immediate and noticeable change.
Q: You have also championed building on the ATS's global reach. What are your priorities for the Society's international activities?
A: The ATS is an international society, with a mission to improve health worldwide by advancing research, clinical care, and public health in respiratory disease, critical illness, and sleep disorders. I'd like the Society to build on the strengths of its international programs, including:
The Methods in Epidemiologic, Clinical, and Operations Research Program. MECOR is an intensive week-long course for physicians and related health care professionals to strengthen capacity and leadership in epidemiological, clinical, and operations research related to respiratory conditions, critical care, and sleep medicine in middle- and low-income countries. This program is training more than 200 doctors and other research professionals each year. At the same time, we need to ensure the curriculum remains cutting edge so it is as impactful as possible.
The Global Scholars Program. The program was created to help address the shortage of advanced training programs in respiratory, critical care, and sleep medicine in middle- and low-income countries. Now available in 10 countries on three continents, the Global Scholars Program is already enhancing medical education around the world, and we are looking to expand the program to other countries.
The Forum for International Respiratory Societies (FIRS). The ATS is one of several major respiratory societies that is a founding member of FIRS, which was established in 2001 to promote advocacy in matters of global respiratory health and the identification of new areas for global initiatives. During my tenure, we are going to be aggressively pushing our global health agenda through continued promotion of the Decade of the Lung (2016-2025).
The Critical Care Conference on Acute Respiratory Failure and Mechanical Ventilation. In an exciting new collaboration with the Brazilian Thoracic Society and the Associaci

ó

n Latinoamericana de Torax, or ALAT, the ATS is co-sponsoring this conference to enhance the critical care educational opportunities in Latin America. This conference will be held in São Paulo from July 13-15, 2017. We are hopeful this will be the first of many such collaborations.