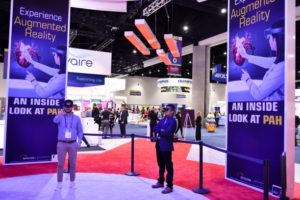 Extend your learning process with ATS 2019's interactive, hands-on demonstrations, virtual reality experiences, and a variety of Industry Theaters, Practical Workshops, and Guru Bar presentations in the Exhibit Hall.
"The Exhibit Hall will offer many opportunities to expand your learning at ATS 2019," said Jess Mandel, MD, ATSF, chair of the ATS International Conference Committee. "You can 'test drive' a new product through a hands-on demonstration, listen to an expert present the latest data on a new pharmacologic therapy, or engage in a small-group discussion of a clinical challenge at a Guru Bar. Wherever you go, you'll find exciting innovations and friendly people, whose insights will add to your ATS 2019 experience."
Engage in Interaction
Hands-on demonstrations at exhibitor booths give you the opportunity to learn on the spot. Experience innovative products up close and speak with experts to explore innovation and technological advancements.  
Alliance Tech Medical, Inc.
Booth 3524
Studies show that 79 percent of COPD patients misuse their inhalers. Enter In Check™ DIAL, a new generation for inhaler training and assessment. Try it out to see how you can help patients achieve optimal delivery from MDIs and DPIs.
Owlstone Medical Ltd.
Booth 3520
See firsthand how Breath Biopsy works with an in-booth live demonstration. Breath Biopsy offers a non-invasive approach for discovering biomarkers in a research setting for respiratory diseases such as asthma and COPD by analyzing the volatile organic compounds in breath.
Vathin Medical Co. Ltd.
Booth 4436
Vathin Medical Co. Ltd. will use a medical mannequin to help explain the function of its disposable bronchoscopy. Through this interactive demonstration, you'll even be able to try it out for yourself.
Explore Virtual Reality
You'll be a believer from the moment you strap the goggles over your eyes.
Astrazeneca
Booth 4308
See for yourself how science is advancing with take-home virtual reality goggles that bring to life eosinophilic asthma and the mechanism of disease.
Sunovion Pharmaceuticals Inc.
Booth 3901
Do your patients need something in between inhalers and jet nebulizers? Learn more by immersing yourself in an educational virtual reality experience.
Check the Score
New methodology is just as critical as new products, and you'll find it at ATS 2019.
Cincinnati Children's Hospital
Booth 1406
Scientists at Cincinnati Children's Hospital have created a decision tool called Pediatric Asthma Risk Score (PARS) to predict asthma in children. Testing has shown PARS to be more accurate than the Asthma Predictive Index (API), the gold standard, in predicting asthma in children with mild to moderate asthma risk, the group of asthma patients most likely to respond favorably to prevention strategies.
Plan for Practical Workshops
Booth 1917
Take part in 90-minute learning opportunities to gain hands-on education and skill-building. The workshops are hosted by medical device companies and manufacturers from 12:30-2 p.m., Sunday through Tuesday. 
Go to the Guru Bars
Booths 1700, 1703, 1900, 1903 
These short, lightning-learning sessions provide you the opportunity to collaborate with leaders on an array of subjects. Each session features a 10-minute outline of a problem statement, mitigating factors, and the host's perspective/solution. The sessions end with a challenge or question posed to participants, who discuss it for the remaining 10 minutes. Each Guru Bar can accommodate 25 seated participants with standing room around the perimeter. Look for a dynamic and interactive discussion. Guru Bars are organized by categories of interest:
Guru Bars 1 and 2: Education/Awareness/Prevention or Diagnosis
Guru Bars 3 and 4: Treatment or Adherence/Compliance
Learn While Enjoying Lunch at Industry Theaters
Booths 101, 116, 3148, and 4749
Gain a deeper understanding of disease areas and explore the latest products from pulmonary, critical care, and sleep medicine while having a light lunch during Industry Theaters. Complimentary boxed lunches are provided by the ATS while supplies last.