The Exhibit Hall is a great place to learn about new technology and innovations. Each year, many companies launch new products during the conference. Preview these 10 companies that will be featuring their products during ATS 2018.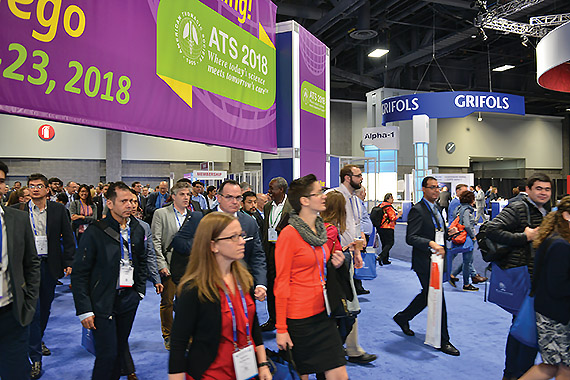 3D Systems Simbionix
Booth 2726
As a leader of medical and surgical simulators for the last 20 years, this company's training solutions span medical specialties and support the widest range of tasks, procedures, pathologies, and cases. Stop by the 3D Systems booth for a hands-on demo of Simbionix training simulators. The BRONCH Mentor provides an optimal environment for bronchoscopy skills acquisition and hands-on training for diagnostic, emergency, ICU, and EBUS procedures. The BRONCH Express, co-developed with the American College of Chest Physicians, is an affordable, portable virtual reality simulator for endobronchial ultrasound – transbronchial needle aspiration (EBUS-TBNA) training.
4Dx Limited
Booth 431
4Dx Limited, a medical technology company, is showcasing 4DxV, a four-dimensional lung imaging technology. 4DxV provides a state-of-the-art, non-invasive way of understanding regional lung motion and airflow in real time within the breathing lungs. 4DxV precisely captures a breathing lung without the use of contrast agents or higher levels of radiation. This technology allows patients and clinicians to safely and effectively measure and image airflow in and out of each section of the lung for the first time. 4DxV creates highly detailed maps of patterns of lung motion and pulmonary function, with functional deficits detected through local differences in movement.
Advanced Vascular Models
Booth 2619
Founded in 2003, Advanced Vascular Models produces custom cardiovascular and lower airway models for medical device and clinical researchers. Built from CT data up to the seventh generation and dip molded from silicone with a lubricious coating, these bronchial trees are the most advanced lower airway models on the market. As a first-time exhibitor, AVM is introducing customizable bronchoscopy training models directly to health care professionals. Its first product is a conventional TBNA training model developed in collaboration with Atul C. Mehta, MD, from the Cleveland Clinic; Hans J. Lee, MD, from The Johns Hopkins Hospital; and its European partner, Grigoris Stratakos, MD, from Sotiria Hospital in Athens, Greece.
Data Sciences International
Booth 1929
Founded in 1984, Data Sciences International (DSI) has pioneered the use of wireless implantable devices for monitoring and collecting physiological data to become a leader in implantable telemetric physiologic monitors for preclinical research. In 2014, DSI acquired Buxco Research Solutions. The Buxco solutions provide researchers with the capabilities to acquire a variety of respiratory endpoints, from conscious or anesthetized preclinical subjects, using inhalation and exposure systems. DSI continues to innovate and develop products that let researchers collect data like never before. This includes the continuous glucose telemetry sensor, which allows researchers to collect continuous glucose data from conscious, freely moving animals.
Inspire Medical Systems
Booth 2815
Inspire Medical Systems was formed in 2007 with the goal of creating the first implantable neurostimulator for obstructive sleep apnea (OSA). Utilizing well-established technologies from cardiac pacing and neurostimulation, along with a significant intellectual property portfolio courtesy of Medtronic, Inspire Upper Airway Stimulation therapy was developed. The fully implanted Inspire system consists of a breathing sensor lead and a stimulation lead, powered by a small battery. Inspire therapy delivers mild, rhythmic stimulation to the hypoglossal nerve, which restores upper airway muscle tone, allowing a patient to breathe during sleep. Inspire is controlled by the patient using a small, handheld Inspire Sleep Remote.
Medical International Research
Booth 2935
Medical International Research (MIR) is a global spirometry company founded in 1993. The cornerstone of its spirometry technology is the FlowMIR, the first and only internationally patented disposable turbine. This provides the clinician and patient with an accurate device for measuring lung performance while providing a contamination-free environment. The new range of MIR products meets the needs of clinicians, physicians, and patients worldwide. MIR is also a leader in providing products that connect to PC-Windows via USB and Bluetooth. These products make MIR a leader in providing devices for use in the home by patients who suffer from COPD, asthma, and cystic fibrosis.
patientMpower
Booth 824
Monitoring is critical in the care of IPF patients, but between clinic visits there is a gap in quality information on a patient's condition, as well as a lack of support for patients. patientMpower for IPF is a mobile platform that enables patients to track data relating to their disease remotely using integrated monitors, including spirometry (FVC), pulse oximetry, impact on daily life, medication adherence reminders, air quality updates, and patient support materials. patientMpower also has many benefits for clinicians and health care providers. It assesses disease course and identifies progressive disease, aids treatment decisions, and allows for earlier prediction of exacerbations and complications.
PulmOne
Booth 3227
PulmOne was founded to deliver high-quality and repeatable lung volume measurements without the need for expensive and large plethysmographs or tedious gas dilution devices. The MiniBox+ complete pulmonary function testing system is the first cabinless, gasless device that can measure total lung volume in less than two minutes, with only a few tidal breathing cycles. Mouth pressure is measured using very short (100 msec) interruptions, followed by a slow vital capacity maneuver. The MiniBox+ is designed to minimize patient effort and discomfort, simplify operation, shorten testing time, and enable high repeatability.
restor3d
Booth 1042
restor3d was founded to enable surgeons to improve the reconstruction and repair of the human body through 3D printed implants with enhanced anatomical fit and superior integrative properties. Airway stents are a major focus, designed uniquely for each patient and created via 3D printing in a matter of hours instead of weeks. A patient's CT scan is converted to a 3D model, which is used to develop a stent that is a near perfect geometric match for the patient. The stent is then directly 3D printed using a popular, soft biomaterial that has found use in many biomedical applications, including orthopedics and airway. The stents are then placed via rigid bronchoscopy in a manner equivalent to silicone stents.
THORASYS Thoracic Medical Systems Inc.
Booth 730
Over the past decade, oscillometry has progressed from a marginal research tool to a technique that is sufficiently mature and validated to warrant more widespread adoption, mostly due to changes in equipment and usability. The novel tremoflo® Airwave Oscillometry System (AOS) packs a state-of-the-art system in a compact, handheld form that can be easily deployed in the PFT lab, doctor's office, clinic, hospital ward, or emergency room. The tremoflo requires only a few quiet breaths, so measurements are readily obtained in wheezing pre-schoolers and severe COPD patients alike.