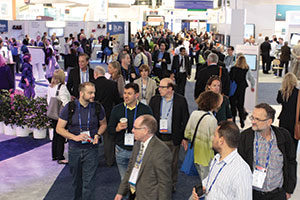 Clinical trial investigators can learn about research opportunities at ATS 2017 by visiting exhibitors currently involved in trials. Nine exhibitors are featured in the Exhibit Hall and in the Clinical Trials Awareness Area. The area is in Concourse B of the Walter E. Washington Convention Center.
FibroGen, Inc., Booth 2, is a biotechnology company focused on development and commercialization of therapeutic agents, including pamrevlumab (FG-3019). It is an investigational anti-fibrotic therapeutic antibody that inhibits the activity of connective tissue growth factor. It is being evaluated in a randomized placebo-controlled phase 2 trial in idiopathic pulmonary fibrosis.
Novartis Pharma AG, Booth 8, offers a diversified portfolio that features innovative medicines, eye care, and cost-saving generic pharmaceuticals. Novartis employs 118,000 full-time-equivalent associates, and its products are sold in more than 150 countries.
PAREXEL, Booth 1147, is a central review core lab for clinical trials. It offers multiple solutions to standardize central imaging and pathology endpoint assessments in respiratory and pulmonology diseases. It has managed more than 1,300 trials requiring centralized collection and review of data, and it is a leading provider of IPF imaging, having supported the majority of IPF imaging trials and two Breakthrough Therapy Approval trials.
Pulmonx Corp., Booth 949, has conducted two multicenter, multinational randomized controlled trials of its Zephyr endobronchial valves for the treatment of emphysema. The TRANSFORM and IMPACT studies evaluated a total of 190 patients with homogeneous emphysema and absence of collateral ventilation. The Global Initiative for Chronic Obstructive Lung Disease recently included endobronchial valves in its recommendations for the treatment of patients with emphysema. The company expects to submit its valves for FDA approval in 2018.
Reata Pharmaceuticals, Booth 9, is a clinical stage biopharmaceutical company that develops novel therapeutics by targeting molecular pathways involved in the regulation of cellular metabolism and inflammation. Reata's two most advanced clinical candidates are bardoxolone methyl and omaveloxolone, which target an important transcription factor, Nrf2, to restore mitochondrial function, reduce oxidative stress, and resolve inflammation.
Santhera Pharmaceuticals, Booth 3, focuses on the development of treatments for mitochondrial, neuromuscular, and neuro-ophthalmological diseases that currently lack treatment options. Its leading drug in development is idebenone, which is in phase 3 development for Duchenne muscular dystrophy. The study has demonstrated that the drug slows the decrease in respiratory muscle function over time, resulting in less respiratory-related symptoms in boys with DMD.
Spyryx Biosciences, Booth 6, is developing SPX-101, a peptide nebulized with an investigational eFlow nebulizer for the management of cystic fibrosis. SPX-101 is a mimetic of the SPLUNC1 protein and represents a novel mechanism of action in the search for correction of the pulmonary manifestations of CF.
Temple University Health Systems Inc., Booth 1309, emphasizes patient-centered care, research and education focused on pulmonary disease. Temple has one of the most active centers for pulmonary care in the nation with thousands of patient visits and procedures performed each year.
Bellerophon Therapeutics, Booth 7, is a clinical-stage biotherapeutics company focused on developing innovative therapies at the intersection of drugs and devices that address significant unmet medical needs in the treatment of cardiopulmonary diseases. It is currently developing three product candidates under its INOpulse program, a proprietary pulsatile nitric oxide delivery device. The first candidate is for the treatment of pulmonary arterial hypertension, which is enrolling patients in phase 3 clinical trials.