Career advice, small-group learning, hands-on training, and networking comprised key elements of the ATS programming for Early Career Professionals on Friday and Saturday.
Added to the lineup of the Student Scholars Program, Resident Boot Camp, and Fellows Track Symposium this year is the Fellow-to-Faculty Boot Camp.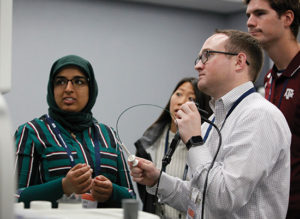 Thirty attendees (15 clinical fellows and 15 post-doctoral PhD fellows) tapped the boot camp to address specific topics and challenges related to the field and to their independent transitions into their careers.
"The fellow-to-faculty transition is something that you haven't done until you do it," said Avraham Cooper, MD, of Columbus. "It seems like, historically, a lot of the advice people get is ad hoc. It happens after they've already gone through the transition. Part of the point of the boot camp is to give us that advice now, while we still have time to look at habits and incorporate that advice into this transition period."
 The Student Scholars Program gave 70 medical, graduate, and undergraduate students the opportunity to attend the ATS 2019 International Conference for free in addition to receiving access to special educational sessions in mentorships.
Lorene Cudjoe, BA, a second-year medical student from Indianapolis, came in for the Student Scholars Program. "I'm not sure what I'm interested in, so I felt like if I'm able to get sort of a mentor, and also do some hands-on learning and networking, that will give me a better idea of how to navigate—if I'm interested in pulmonary care—what that looks like and what I can do."
 Internal medicine and pediatric fellows who have already matched into a fellowship program for July 2019 participated in the Resident Boot Camp. There, more than 140 faculty teachers participated in presentations, small-group breakouts, and hands-on workshops.
Attendee Cameron McGuire, MD, MPH, Denver, said he is excited but terrified to be a fellow next year. "I'm hoping that all of this hands-on training and the larger lectures and smaller group work with experts helps me to feel more confident and comfortable."
The two-day Fellows Track Symposium allowed adult and pediatric fellows in pulmonary, critical care, and sleep medicine programs to arrive early to get oriented for the ATS 2019 International Conference. FTS participants learned about topics that correspond to specific sessions and poster presentations at ATS 2019 as well as interacted with world-renowned leaders in the field.
Early career professional educational programming is supported by educational grants from Actelion Pharmaceuticals U.S., Inc., AstraZeneca LP, Genentech, Inc., Boehringer Ingelheim Pharmceuticals, Inc., Medtronic, Olympus Corporation of the Americas, and Vertex Pharmaceuticals, Inc. In-kind support is provided by Ambu, BD, Boehringer Ingelheim Pharmaceuticals, Inc., Clement Clarke, Cook Medical, ERBE USA, Inc., Fisher & Paykel Healthcare, FujuFilm SonoSite, Inc., GlaxoSmithKline, Hill-Rom, Medronic, Mindray, Monaghan Medical Corporation, Mylan Pharmaceuticals Inc., ndd Medical Technologies, Inc., Olympus Corporation of the Americas, Philips Respironics, Sunovion Pharmaceuticals, Inc., Teleflex Incorporated, Teva Pharmaceuticals, Verathon, and Vyaire Medical.