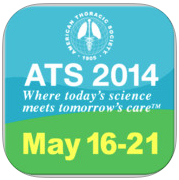 The new ATS 2014 app for smartphones and tablets is now available in the Apple App store and Google Play. Plan your itinerary by searching sessions by keyword, author, and title and upload it to your calendar. Find information about:
Exhibitors and the Exhibit Hall hours, floor plan, Industry and Mini-Theaters, and Non-CME Industry Symposia;
Assembly Meetings and Dinners;
The ATS Center;
The Center for Career Development and Road Map for Professionals in Transition and Training;
The Clinicians Center;
The Science and Innovation Center;
Special events such as the Foundation Benefit, Diversity and Women's Forums, and the PAR Symposium and "Breathing Better with the ATS";
Hotels and floor plans;
San Diego Convention Center details;
Airport and public transportation;
Links to Facebook, Twitter, LinkedIn, and YouTube; and more.
This app is supported by Gilead Sciences, Inc.
To download the free app for your iPhone, iPad, or Android, search for "ATS 2014" in the Apple App store or Google Play.