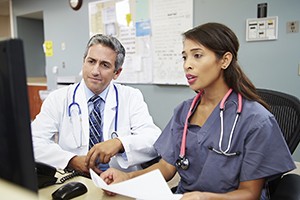 How can technology improve your research or clinical practice? Here is a glimpse of the latest devices that will be on display in the Exhibit Hall that have the potential to improve your workflow in the field or office.
ADInstruments
ADInstruments, in Booth 809, creates high-performance digital data acquisition solutions for biomedical research, including respiratory applications. The company is proud to support scientists with user-friendly software, specialized training, and simple, solution-focused systems that ensure data confidence and enable innovation and discovery—with equipment cited in more than 30,000 research papers in peer-review journals.
Whether the focus is basic or translational research or studying cardiovascular, pulmonary, or sleep disorders, ADInstruments offers a wide range of complete and modular solutions that can be integrated for the acquisition of high-fidelity data from humans and other animals. From spirometry and gas analysis to NIBP, EEG, EMG, and more, a wide range of applications are supported. The technical team can work to design the ideal solution for any research needs.
As with all its research solutions, its analysis software, LabChart, provides a feature-rich platform and framework that facilitates equipment synchronization, letting users simultaneously record a wide range of physiological signals from multiple devices into one file and analyze them in real time. This means researchers can gain insights as experiments progress while also having the flexibility to customize a solution that fits specific needs. The technology can adapt as requirements change.
Benson Medical Instruments Co.
Benson Medical Instruments Co., in Booth 608, will exhibit the CCS-200 Plus Computer Controlled Spirometer, which was the subject of a recent Clinical Reports study and received positive evaluations in the following areas:
Performs all the spirometry tests needed in an occupational health setting
Ease of daily calibration check
Breadth of spirogram reports
Hygiene
Patient ease of use during testing
Operator ease of use
The CCS-200's robust data management software stores patient data, health questionnaires, and standard and customized reports for thousands of subjects. Data can be imported and exported to a PC or network, or it can be delivered in a PDF format.
The spirometer meets ATS/ERS 2005 and NIOSH standards and features a guided calibration check. The spirometer and software are integrated and may also interface with the CCA-200mini audiometer.
A proprietary U-tube mouthpiece loads with a click and ejects for hands-free disposal. The CCS-200 ultrasonic technology has no sensors or obstructions inside the single-use U-tube that measures expiratory flow.
Benson Medical Instruments Co. designs and manufactures spirometers, audiometers, and software to manage occupational spirometry and hearing conservation programs.
TSI Healthcare
TSI Healthcare, in Booth 511, will demonstrate its award-winning pulmonary and sleep medicine electronic health record. Voted the No. 1 pulmonary and sleep medicine EHR by Black Book, TSI Healthcare delivers the most advanced EHR system in the industry. Discover how your practice can improve efficiency and patient engagement with more than 100 pulmonary and sleep medicine-specific enhancements. Get an exclusive firsthand look at TSI Healthcare's annual pulmonary and sleep medicine EHR content release.
Founded in 1997, TSI Healthcare's solutions are designed to meet the unique needs of specialty practices through specific EHR content and unmatched services. In addition to core products powered by NextGen®, TSI Healthcare also offers Patient Portal, Population Health Management, Revenue Cycle Management, cloud hosting and more. TSI's support and service teams include NextGen Certified Professionals, clinicians, and former practice administrators and physicians.