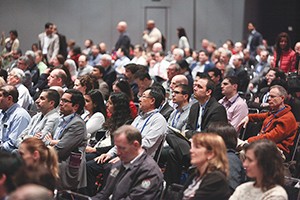 The ATS requires that all faculty members speaking at CME-accredited International Conference sessions prepare and show conflict of interest disclosure slides at the beginning of their presentations. (This is in addition to completing a preconference disclosure questionnaire.)
COI slides ensure that the ATS complies with Accreditation Council for Continuing Medical Education requirements for disclosure to learners. Instructions and PowerPoint disclosure slide templates can be downloaded at conference.thoracic.org/speakers. Moderators and presenters can retrieve their 2016 conference disclosures by logging into thoracic.coi-smart.com/login.php.
Session chairs/moderators are reminded to look for the COI documentation form on the podium at their sessions. They must complete the form by the end of each session they moderate in order for the ATS to meet ACCME requirements for written attestation that disclosure slides were shown and of any other disclosures made orally.