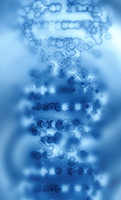 The presentation of basic and translational scientific discoveries is central to the ATS 2016 International Conference. This year, ATS will introduce and reintroduce programming tailored to basic and clinical scientists in the Basic Science Core. Learn about new products and services in the dedicated Basic Science Area of the Exhibit Hall observe research-focused presentations and network with other researchers at the Science & Innovation Center, and attend additional scientifically-focused presentations in the sunrise seminars.
Basic Science Core
Gene studies and genetics technology are revolutionizing biology, pushing science forward as we progress toward cures for many lung and airway diseases. ATS 2016 organizers of the fourth Basic Science Core will present the theme "Gene Expression: Beyond Transcription."
During the Basic Science Core—thematically-linked symposia and an abstract-based poster session coordinated on consecutive days—presenters will highlight new methods, treatments, and breakthroughs in the field. Introduced at ATS 2013, the Basic Science Core is jointly developed by the Assemblies on Respiratory Structure & Function, Respiratory Cell & Molecular Biology, and Allergy, Immunology & Inflammation.
A strength of the ATS International Conference is convening multidisciplinary researchers," says Andrew J. Halayko, PhD, a member of the Basic Science Core Working Group. "The Basic Science Core offerings ensure that we are at the forefront of discovery, including research conducted by non-ATS investigators. Gene expression has an important link to precision medicine, and expertise in this area will better equip our scientific and clinical community with innovative ideas and capacity to better manage lung disease. Basic Science Core speakers are pushing the envelope for asthma, COPD, cystic fibrosis, and lung cancer."
An example of how "Gene Expression: Beyond Transcription" will focus on novel approaches to the study of gene expression is the Monday, May 16, "Harnessing Breakthroughs in CRISPR Gene Editing Technology for Research and Therapy" session. The development of the CRISPR system for efficient and selective editing of the human genome represents the most important scientific breakthrough of the past decade. CRISPR-based systems are already being widely used for inactivating or repairing individual genes in human cells and animal models, and for genome-wide studies of the functions of coding and non-coding RNAs. This session will introduce the basic CRISPR/Cas9 system; explain how this technology is being modified to allow selective inactivation, activation, and live imaging of the genome; and illustrate how the technology can be applied to study and treat lung diseases, including cancer.
Tuesday's scientific symposium on "Scientific Breakthroughs in RNA Biology: What's New, Exciting and Therapeutic" will focus on some of the recently identified and novel roles of RNA species in regulating lung development, and in treating lung disease. Speakers will discuss the role of long non-coding RNA in lung development and the potential for micro RNA as therapies for lung cancer. The session will span basic biology and development to cutting-edge therapeutics and integrate with the 2016 Scientific Core theme. Presentations from experts will be complemented by abstracts related to the topics being discussed.
Harnessing Breakthroughs in CRISPR Gene Editing Technology for Research and Therapy (B5) and Scientific Breakthroughs in RNA Biology: What's New, Exciting and Therapeutic (C85) are supported by an educational grant from AstraZeneca LP.
Basic Science Area
The Basic Science Area of the Exhibit Hall is the location exclusively dedicated to helping basic scientists and researchers connect with vendors who are focused on their most pressing investigative needs. Gain extensive knowledge about products or services that can help advance your research. The Basic Science Area features 11 companies.
Science & Innovation Center
The Science and Innovation Center returns with networking events and presentations presented by experts eager to discuss a range of topics. Learn about research-related resources and consult informally with distinguished scientists about study design.
The center, located in Moscone Center (West Building), will feature the SIC 101 series Sunday and Monday morning, May 15 and 16, where attendees can learn the basic principles underpinning high profile symposia at the conference. Planned topics include clock genes, CRISPR, lung disease phenotypes, and metabolism in lung disease.
Special events are also being planned, including the Rising Stars of Research awards on Sunday and Monday afternoon, which will feature presentations by researchers at the assistant professor and early associate professor level, who are making outstanding contributions to the field of lung research.
Celebrate the best scientific abstracts submitted to ATS 2016 San Francisco by early career professionals during the Abstract Awards presentation on Tuesday.
On Tuesday morning, a representative from the National Heart, Lung, and Blood Institute will share insights with attendees and be available answer questions.
Breakfast and lunchtime refreshments will be served Sunday-Tuesday, and mentors and mentees are invited to gather and socialize in the Early Career Professionals Coffee Corner on Tuesday morning.
Sunrise Seminars
What better way to greet the day than by attending a Sunrise Seminar and enjoying a continental breakfast? Attendees will have a chance to choose from a number of sunrise seminars, which run a gamut of issues facing specialists in pulmonary, critical care, and sleep medicine. These take place from 6:45 to 7:45 a.m. Monday-Wednesday.
Among the 57 offerings are Monday's E-Cigarettes: Epidemiology and Toxicity," Tuesday's "Optimization of the 3D in vitro Assay to Study Lung Stem/Progenitor Cells," and Wednesday's "'Mind The Gap': Use of Native Tissue Slices and Decellularized Human Matrices as ex vivo Models of Regeneration and Disease."