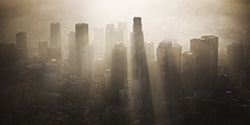 A battle over climate change is brewing in U.S. courts, and the ATS is fighting for the health of our patients.
The Environmental Protection Agency has finalized regulations—known as the Clean Power Plan—to reduce greenhouse gas carbon pollution emissions from U.S. power plants. Power plants are responsible for one-third of total carbon dioxide emissions in the U.S.  The EPA's Clean Power Plan requires each state to develop its own plan to make significant reductions in carbon pollution emissions for power plants. States are expected to achieve these carbon pollution emissions reductions no later than 2030.
The power, coal, and coal-producing states strongly oppose the Clean Power Plan and are suing the EPA in federal court to block implementation of the Clean Power Plan.
The ATS has taken a firm stand that climate change is a direct threat to human health and has organized a coalition of medical organizations to submit an amicus brief—or "friend of court" petition—in the case to explain to the court why climate change is such a serious health threat to our patients. 
The Society's amicus brief cites multiple studies documenting that climate change is having adverse effects on human health, including:
Climate-driven heat waves cause excess morbidity and mortality.

Rising temperatures that can lead to increased ozone pollution, resulting in longer and more intense pollen seasons.

Climate-forced droughts leading to forest fires, causing injury and illness and reducing air quality
In a recent ATS survey of its U.S. members, a majority of respondents concurred that climate change is occurring, it is having a direct impact on the health of their patients, these impacts are particularly harmful for children, and even greater climate-driven adverse human health impacts are anticipated. Other medical society surveys have had similar results.
The ATS is joined in the amicus brief by the American Academy of Pediatrics, American College of Occupational and Environmental Medicine, American College of Preventive Medicine, American Medical Association, American Public Health Association, National Medical Association, and National Association for the Medical Direction of Respiratory Care.