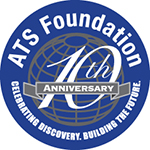 The ATS Foundation would like to welcome all of its friends, partners, and supporters from around the world to join in celebrating the ATS Foundation's 10th anniversary. During this landmark occasion, the ATS Foundation recognizes the ATS Foundation Research Program's significant achievements in launching the careers of more than 183 young investigators dedicated to scientific discovery and better patient health.
As it begins its second decade, the ATS Foundation is determined to build on the program's successes by raising $3 million over the next three years to support promising young investigators. To meet this ambitious goal, the ATS Foundation is launching the 10th Anniversary Campaign, reaching out for the support of ATS members and friends, foundations, and corporations.
Many joined the ATS Foundation as it recognized Marvin Schwarz, MD, a world-renowned expert in interstitial lung disease and pulmonary fibrosis. He was honored with the 2015 Breathing for Life Award Saturday evening during the Seventh Annual ATS Foundation Research Program Benefit.
Donor Appreciation Suite
ATS 2015 International Conference attendees who have contributed $300 or more to the ATS Foundation between June 2014 and May 2015 are invited to relax, grab a bite to eat, check emails, and use the Internet free of charge in the ATS Foundation's Donor Appreciation Suite in Lobby D near the Bellco Theatre in the Colorado Convention Center.
Suite amenities include ATS registration with no waiting in line, complimentary breakfast and snacks, Internet access, Microsoft Word, PowerPoint, and Excel software, a meeting space, and printer access. Gifts are welcome onsite via check or credit card.
The suite is open from 7 a.m. to 6 p.m. today through Tuesday and from 7 a.m. to noon Wednesday.
Breathe Easy Bar
Unwind in the café-style Breathe Easy Bar, open from 3 to 6 p.m. today through Tuesday in Lobby B (Street Level) Colorado Convention Center. This cash bar is stocked with beer, wine, and various cocktails. Be sure to try the Stump Schwarz Showstopper—a combination of Pinnacle Vodka, lime juice, lemon juice, orange juice, lemon lime soda, and an orange slice garnish—named for Marvin Schwarz, MD, winner of the 2015 Breathing for Life Award. Proceeds from this signature drink will go toward the ATS Foundation Research Program.
The Breathe Easy Bar is sponsored by MEDA Pharmaceuticals, Inc.