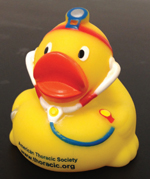 Visit the ATS Center in Booth 4139 in the Exhibit Hall, where you'll find a variety of new offerings for ATS 2014.
Navigate the ATS website on the largest tablet you've ever seen. Check out the new ATS health equality webpage, revised patient education website, career development information, IPF case studies, resources for fellows, and more.
Browse the ATS Journals app at the iPad kiosk, where you can access the special Annals of the American Thoracic Society issue on health equality or the 25th anniversary issue of the American Journal of Respiratory Cell and Molecular Biology.
Tired and need to recharge? Come to the ATS Center to charge your phone at three recharging stations and relax.
Need more reasons to visit the ATS Center? Here are 10:
Get your FREE DVD of the conference abstracts.
Purchase an ATS 2014 T-shirt, ATS polo shirt, San Diego rubber duck, 4-in-1 pen with laser pointer, and other gifts.
Purchase a postgraduate course flash drive; choose from 25 different courses.
Join the ATS or renew your membership during the conference and receive a FREE ATS 2014 T-shirt!
Need a professional headshot? Ask about our new service during the conference, FREE for ATS members.
Review the Patient Education fact sheets at our computer kiosks. Choose from more than 70 titles, including new releases and Spanish-language materials, and email them directly to your inbox.
Rediscover the three ATS journals, including the new clinician-oriented Annals of the American Thoracic Society, and the ATS Journals app.
Pick up a copy of Highlights for Clinicians, which guides clinicians to the most relevant sessions.
Trainees can get a copy of the Road Map for Professionals in Transition and Training for details on sessions that will help them in their careers.
Learn about grant opportunities.
ATS Center and ATS Satellite Booth Hours
When the ATS Center in the Exhibit Hall is closed, please visit the ATS Center Satellite Booth in the Sail Pavilion (Upper Level) of the San Diego Convention Center.
Today
6:30 to 10:30 a.m.
Sail Pavilion (Upper Level)
10:30 a.m. to 4 p.m.
Booth 4139, Exhibit Hall
4 to 6 p.m.
Sail Pavilion (Upper Level)
Monday
6:30 to 10:30 a.m.
Sail Pavilion (Upper Level)
10:30 a.m. to 3 p.m.
Booth 4139, Exhibit Hall
3 to 5 p.m.
Sail Pavilion (Upper Level)
Tuesday
7:30 to 10:30 a.m.
Sail Pavilion (Upper Level)
10:30 a.m. to 3 p.m.
Booth 4139, Exhibit Hall
3 to 5 p.m.
Sail Pavilion (Upper Level)
Wednesday
8 a.m. to 2 p.m.
Sail Pavilion (Upper Level)