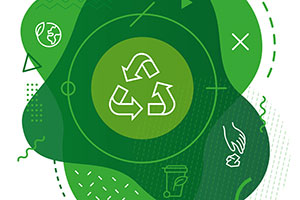 Additional initiatives will make the ATS 2020 International Conference greener than ever. The ATS will roll out the following new environmentally friendly strategies, designed to reduce the collective environmental impact of the conference:
ATS 2020 attendees will have the option of purchasing a "carbon offset" when registering for the meeting. Simply select "I agree to offset the carbon emissions of my ATS travel" and donate $20 to CoolEffect while registering.
There will be no printed final program or registration bag.
Hard copies of the Exhibit/Session Guide will be reduced by more than 60 percent.
Individual door drops for Medical Bags will be limited to one per day and will use a smaller, fully biodegradable plastic bag. All printed advertisements will be limited to six per day and are required to be printed on recycled paper and use environmentally friendly inks.
These new strategies will be added to existing initiatives that the ATS has implemented over the years, including the elimination of water bottles; the addition of the ATS Hydration Station, which provides ATS-branded refillable water bottles for attendees to use throughout the conference; and the reduction in paper use by moving all conflict-of-interest disclosures, calls for input, and calls for abstracts to an electronic format.
The Hydration Station is supported by Regeneron and Sanofi.