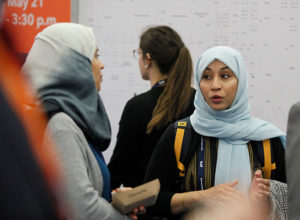 As 14,000 pulmonary, critical care, and sleep professionals from around the globe arrive at the ATS 2020 International Conference in Philadelphia this May, they'll find expert programming provided by a diverse group of specialists — all by design.
Diversity has always been a key part of the International Conference because more than 40 percent of attendees come from outside the U.S. However, in recent years, planners and committee chairs have focused on inviting speakers and lining up programming that reflect the diversity in membership, including providing more gender equity.
"The question is, what are we doing to enhance opportunities not only for women but for underrepresented minorities and other groups that do not fit into the classic academic profile or clinical profile that we expect to see from a pulmonary, critical care, sleep physician," said Eric White, MD, MS, ATSF, ATS International Committee chair.
The answer, he said, is that the ATS is doing a lot to ensure that all people are represented at the International Conference.
"That includes making sure our eyes are wide open when submissions come in and we see that there are three male professors all from the same institution that are suggested to chair a symposium," Dr. White said. "We look at that and we say, hold on a second, we need to give junior people a chance, we need to make sure that our international community is represented, and we need to make sure that women and men are represented. Can we get all of those demographics into three chairs of a single symposium? No, we can't. But we are cognizant of the fact that we need to try to do that."
Dr. White meets with leadership and a number of committees and assemblies to drive the narrative at ATS as he oversees the planning of the International Conference.
"We're making it clear that the culture of the ATS is that we want everybody included," he said. "We want people who want to be included to have an opportunity to put themselves out there, to offer their opinions, and have input in the structure of things."
Women in Medicine
As the ATS emphasizes diversity at the International Conference, #WomenInMedicine is taking to Twitter to discuss the various issues that affect women working in medicine. ATS member Leticia Kawano-Dourado, MD, of the Hospital do Coração in São Paulo, Brazil, has produced a series of short videos on the same topic for YouTube. These videos will also be on display at the ATS Center starting Sunday, May 17. ATS also has hosted Twitter chats on the subject of women in medicine.
ATS will host its annual Women's Forum, a luncheon, 11:45 a.m. to 1:15 p.m. on Monday, May 18, at Loews Philadelphia Hotel, Commonwealth BCD. The forum recognizes the achievements and supports the advancement of women in pulmonary, critical care, and sleep medicine and research. It provides a valuable opportunity for women to meet new colleagues and ATS leaders. Men are also welcome to attend the forum. Attendees will find value in the inspirational messages, a delicious three course lunch, career insights the speakers share as well as vibrant networking opportunities. Tickets are $20 and include a three course lunch.