Just as attendees appreciate the ATS 2016 International Conference for its stellar programming, they too hold networking opportunities in high regard. Such opportunities often foster connections that lead to joint research projects, referrals, jobs, grants, and published papers. ATS 2016 offers attendees several avenues for networking with colleagues. The list below is a sampling.
Conference Kick Off
The ATS 2016 Opening Ceremony from 4:30 to 5:30 p.m. on Saturday, May 14, will bring a compelling talk with J. Craig Venter, PhD, world renowned for his contributions to understanding the human genome. During the Opening Ceremony, Sonia Buist, MD, an ATS past president and the founder of the Methods in Epidemiologic, Clinical, and Operations Research (MECOR) program, will receive the first ATS Foundation Vision Award. This new award honors an innovative individual who has had a transformative impact on the delivery of health care. The ceremony will be followed by a social gathering with light refreshments.
The Networking Exchange for Early Career Professionals will also take place 5:30 to 6:30 p.m. Saturday. This annual event is geared toward medical students, residents, fellows, junior professionals, and postdocs transitioning from training in their careers. In this relaxed atmosphere, attendees can network with peers, ATS leaders, and representatives from health care and research funding government agencies. Beverages and appetizers will be provided. Please note that the free event requires registration.
Saturday evening will also be devoted to supporting research and honoring internationally recognized expert in severe asthma, Sally E. Wenzel, MD, at the Eighth Annual ATS Foundation Research Program Benefit, taking place at the San Francisco Marriott Marquis. Dr. Wenzel will be presented with the 2016 Breathing for Life Award—the highest honor given by the ATS Foundation in recognition of philanthropy.
The Eighth Annual ATS Foundation Research Program Benefit is generously supported by:
Sapphire Level—$100,000
Genentech
Platinum Level—$60,000
Genentech-Novartis
Crystal Level—$50,000
Mylan, Inc.
Gold Level-$25,000
AstraZeneca LP
Boehringer Ingelheim Pharmaceuticals, Inc.
Novartis Pharmaceuticals Corporation
Sanofi Genzyme and Regeneron

Silver Level-$10,000
FREEMAN
Gilead Sciences, Inc.
Meda Pharmaceuticals, Inc.
Teva Respiratory
Bronze Level-$5,000
Boston Scientific Corporation, Inc.
Insmed Incorporated
Merck
Sunovion Pharmaceuticals, Inc.
Theravance Biopharma
The ATS Foundation thanks UPMC & University of Pittsburgh, Division of Pulmonary, Allergy and Critical Care Medicine and the many individuals and medical institutions that have stepped forward to support the Research Program and young investigators in pulmonary, critical care, and sleep medicine.
ATS Foundation Donor Appreciation Suite
Conference attendees who have contributed $300 or more between June 2015 and May 2016, are invited to relax, enjoy complimentary breakfast, coffee and snacks, check emails, print documents, and use the Internet free of charge in the ATS Foundation Donor Appreciation Suite in the Moscone Center, Lobby (West Building, Level 2), the Suite will be open Saturday-Wednesday, May 13-May 18. Donors can also skip the lines at registration and make their arrangements in the suite. Gifts are welcome on site by check or credit card.
Assembly Meetings, Receptions, Dinners, & More!
All are invited to attend the 14 ATS Assemblies' annual Membership Meetings during the ATS International Conference. The Assembly on Behavioral Science and Health Services Research and the Assembly on Pediatrics will meet from 6:30 to 8:30 p.m. Sunday, May 15. The other 12 assemblies will meet from 5 to 7 p.m. on Monday, May 16. The meetings will be held in various locations.
During these meetings, attendees receive an update on the Assemblies' activities and have a chance to share their input with leadership. Voting results for the Assemblies' future leaders also will be announced. All Assembly members and other interested individuals are invited to attend.
Following the Assembly Membership Meetings, select Assemblies will hold dinners and receptions at various locations from 7 to 10 p.m. Monday, May 16.
 Assembly Dinner
 Assembly Receptions
Allergy, Immunology and Inflammation & Respiratory Cell and Molecular Biology
Clinical Problems
Critical Care
Microbiology, Tuberculosis, and Pulmonary Infections
Respiratory Structure and Function
Sleep and Respiratory Neurobiology
Thoracic Oncology
Pre-registration and an additional fee are required if you wish to attend a dinner or reception. Tickets will be required at the door and entrance without tickets will not be permitted. Seating is limited. Please register online.
Special Interest Poster Sessions at the ATS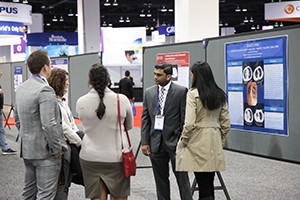 Abstract poster sessions are an important part of the ATS International Conference, not only for the opportunity for investigators from around the world to present new and emerging research, but also for conference participants to learn about cutting-edge issues and recent advances in science and clinical care.
Each year, specialty interest groups and global partners of ATS from around the world organize special poster sessions, which provide an opportunity for clinicians and scientists from various parts of the world to network and to promote research in their respective regions. The abstracts presented in these sessions have been reviewed and approved by the ATS International Conference Committee.
This year special poster sessions will be organized by global partners from Canada, ALAT & SEPAR, APSR, and Turkey, and the field of aerosolized medicine.

ATS 2016 Special Group Events
as of March 9, 2016
Name of Event
Date/Time
Posters
Room Assignment
P1 International Poster Colloquium (MECOR)
Saturday, May 14 11:00 am-4:00 pm
80 posters
Room 134, CC
P2 Canadian Poster Session
Saturday, May 14 11:00-3:45 pm
30 posters
Room 304, CC
P3 ALAT/SEPAR Poster Session (Buenos Dias, ATS)
Sunday, May 15 6:30-8:30 pm
30 posters
Golden Gate C, MH
P4 APSR Poster Session
9/28: Chinese Posters Merging With APSR
Saturday, May 14 11:00-4:15 pm
30 posters
Room 306, CC
P5 Current Practice and Future Developments In Aerosol Medicine
Saturday, May 14 1-4 pm
30 Posters
Room 308, CC
P6 Turkish Thoracic Society
Saturday, May 14 1-4 pm- time ok
30 Posters
Room 305, CC
Free Lunch Forums Discuss Diversity and Gender Issues of Today 
Diversity within the fields of pulmonary, critical care, and sleep medicine will come into focus at the annual Diversity Forum 11:45 a.m.-1:15 p.m. Sunday, May 15. The forum, which allows attendees to interact over lunch, will feature Sonia C. Flores, PhD, professor of medicine, Division of Pulmonary Sciences, University of Colorado Anschutz Medical Campus, Aurora, who will address career and diversity issues, and answer questions from the audience. Minority Trainee Diversity Scholarships (MTDS) will also be presented during the forum. MTDS recipients are selected for the quality of the science in their submitted abstracts.
Then from 11:45 a.m. to 1:15 p.m. Monday, May 16, the annual Women's Forum will likewise allow attendees to interact while recognizing achievements and supporting the activities of women in the field. Guest speaker Catherine R. Lucey, MD, vice dean for medical education at the University of California, San Francisco School of Medicine, will cover topics relevant to female medical professionals. The 2016 Elizabeth A. Rich, MD, Award will be presented to Irina Petrache, MD, professor of medicine and chief of pulmonary, critical care, and sleep medicine at National Jewish Health, Denver, Colorado. Men are invited to attend.
Lunch will be served during both forums, which are sponsored by the ATS Membership Committee and hosted by Yolanda Mageto, MD, MPH. Registration is required to obtain an audience count, but tickets will not be issued. Only conference badges are required for admission, and seating is first-come, first-served.
Centers for Career Development, Clinicians Center, Science & Innovation, and International Participants Center
The Center for Career Development is a networking and career development forum for physicians and other health care and research professionals who are in training or have transitioned in their careers. The CCD, located in Moscone Center (West Building, Level 2, Alcove B), hosts three workshops each day: ATS 101, clinical trials, and private practice on Sunday; how to write a paper, basic/translation career, and negotiating a private practice contract on Monday; and how to get a K-Grant, PhD researcher/scientist careers, and clinical educators on Tuesday. The center also will host social hours from 3:30 to 4:30 p.m. each day, and serve appetizers and beverages.
Clinicians can meet, relax, learn, and gather information and resources in the Clinicians Center, open from 7:30 a.m. to 5 p.m. Sunday-Tuesday, May 15-17, in Moscone Center (West Building, Level 1). In addition to mid-day educational demonstrations and afternoon lectures, the center will offer daily live streaming of the Keynote Series sessions. A light complimentary breakfast will be available from 7:30 to 8:30 a.m. each day. A meet-and-greet reception for nurses will be held from 11:30 a.m. to 12:30 p.m. on Sunday, May 15, and a reception for Outstanding Clinician Award recipient James P. Lamberti, MD, will take place from 4 to 5 p.m. on Monday, May 16. Attendees participating in the adult and pediatric core curriculum sessions are invited to take their respective MOC exams in the Clinicians Center, where dedicated computers will be available Sunday through Tuesday.
The Science and Innovation Center returns with networking events and presentations presented by experts eager to discuss a range of topics. Learn about research-related resources and consult informally with distinguished scientists about study design. The center, located in Moscone Center (West Building), will feature the SIC 101 series Sunday and Monday morning, May 15 and 16, where attendees can learn the basic principles underpinning high profile symposia at the conference. Planned topics include clock genes, CRISPR, lung disease phenotypes, and metabolism in lung disease. Special events are also being planned, including the Rising Stars of Research awards on Sunday and Monday afternoon, which will feature presentations by researchers at the assistant professor and early associate professor level, who are making outstanding contributions to the field of lung research. Celebrate the best scientific abstracts submitted to ATS 2016 San Francisco by early career professionals during the Abstract Awards presentation on Tuesday. On Tuesday morning, a representative from the National Heart, Lung, and Blood Institute will share insights with attendees and be available answer questions. Breakfast and lunchtime refreshments will be served Sunday-Tuesday, and mentors and mentees are invited to gather and socialize in the Early Career Professionals Coffee Corner on Tuesday morning.
All international participants are invited to visit the International Participants Center, located in the Moscone Center, Lobby (West Building, Level 2), and open from 10 a.m. to 4 p.m., Sunday-Tuesday, May 15-17. The center is designed to enhance the conference experience for participants from outside North America, as well as provide opportunities for all participants to become more knowledgeable about ATS international activities. The center provides a place to meet with colleagues, network, or just relax during your time at ATS 2016.
A social event from 4:15 to 6:30 p.m. Tuesday, May 17, will recognize international participants attending ATS 2016 and the International Trainee// Methods in Epidemiologic, Clinical, and Operations Research (MECOR) Scholarship awardees. All international participants, current and former International Trainee/MECOR award recipients, and colleagues are invited.
While at the center, visit with the ATS International Activities staff from the Washington office or make use of the center's amenities including, computer stations to access your email and the Internet; complimentary snacks, coffee, and soda; and space to meet with colleagues, network, or relax.
To learn more, visit the ATS International Conference website.