She has learned many lessons over a lifetime of service. Some are practical: Chilblains are very painful. Others relate to careers: You must learn to market yourself. Still, others are more inspirational: Embrace opportunities and take risks. All of them play a part in what she calls the multicolored quilt of her life.
A. Sonia Buist, professor emerita of medicine at Oregon Health & Science University, was this year's featured speaker at the ATS Women's Forum, an annual event that recognizes the achievements and supports the advancements of women in pulmonary, critical care, and sleep medicine and research. There, she spoke fondly of her colorful life, recalling growing up in India and completing medical school in Scotland. But most of her focus was on the lessons she learned early in her career at OHSU.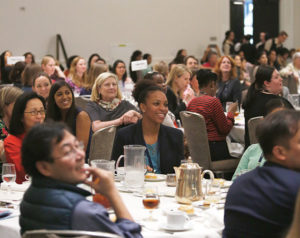 Dr. Buist said having mentors taught her the importance of mentorship.
"You NEED a mentor," she said. "If you do not have a mentor, you probably will not succeed, or at least not achieve your potential. If it hadn't been for my mentors, I wouldn't be standing here today."
She said no matter who you are or what your age, you can always benefit from having a mentor. She provided attendees with her own ABCs of mentorship, including finding one who is available, builds you up, and creates opportunities for you.
You should always embrace opportunities and take risks, Dr. Buist said.
"Always be prepared to say yes if you're asked to give a talk, join a committee, take on a responsibility, or go to a meeting. If you say no, the invitations will stop coming. And if you decide to say yes, do a fantastic job."
Dr. Buist said that over her lifetime, she has learned the delicate balance of work, family, and life. There are many barriers to an optimal quality of life, she said. Chief among these is time. But other barriers include the juggling of your professional and private life, traveling for work too much, financial burdens, being chronically tired with no energy, ill health, and geographic location.
"All these lead to supreme guilt. So, what are the lessons learned? I stopped feeling guilty," she said to much applause. "I gave away my guilt, and it changed everything." She said that on the wall in her home and in her office is her motto that she says to herself every day: "What I do today is very important because I am exchanging a day of my life for it."
Finally, Dr. Buist said, she has learned that you have to network like crazy.
"Take a careful look at what you can bring to the party and market yourself. The world is probably not going to come to you, so step out of your comfort zone and go get it."
Among her many achievements, Dr. Buist served as ATS president, started the ATS MECOR (Methods in Epidemiologic, Clinical, and Operations Research) program, and started the BOLD (Burden of Obstructive Lung Disease) Study to get good estimates of COPD prevalence.
Also at the Women's Forum, the 2018 Elizabeth A. Rich, MD Award was presented to V. Courtney Broaddus, MD, professor of medicine and associate director of the Lung Biology Center at the University of California San Francisco. Honoring the memory and work of Elizabeth Rich, MD, the award is given to a woman who has made significant achievements in the practice or science of pulmonary, critical care, or sleep medicine; demonstrated leadership in her field; and has shown dedicated mentorship of junior colleagues.